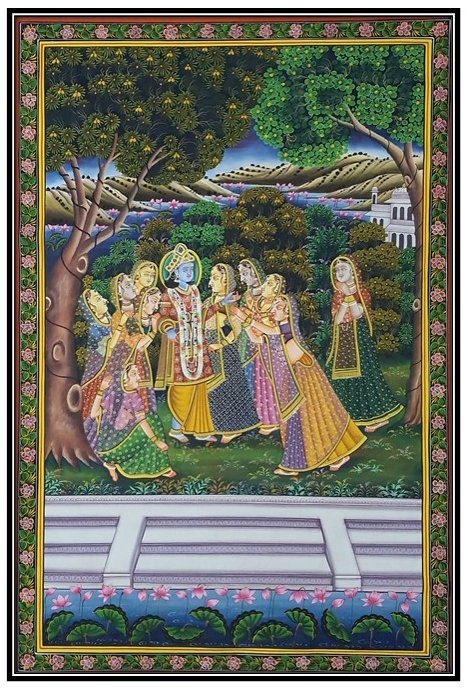 Art is the language of Civilisation. A language through which it tells the stories of its roots, its journey, Its struggles, setbacks, and triumphs. With a known history of 5000 years old civilization, India certainly has a million stories to tell in uncountable languages of Art and Cultural mannerisms. The immense diversity and regional flavors of these art forms not only mesmerize the onlookers but also successfully manage in connecting the modern world with its glorious Heritage.
The most ancient ones of the arts in India have been the paintings, finding its space on the walls of the caves, dwellings, and temples, to cloths, utensils, to glass, paper, and cardboard. The Indian painting art forms have a 5000-6000-year-old history. The ones that survived and are still practiced are Madhubani art, Warli art, Gond art, Patta Chitra, Phad and Cheriyal Scrolls, etc. All of these art forms had a humble beginning and had Nature or religious influences. Also many of these forms, traditionally use colors from natural sources.
The Other Paintings forms which are relatively modern in origin include the Tanjore Paintings which use wooden planks, Kalamkari from modern Andhra Pradesh, Kalighat Painting from Bengal, and the courtroom art like Miniature Paintings. Each one has a unique style, medium, Character, and Objective, completing the entire gamut of Painting art, representing India's rich diversity and history.
Like Painting, Sculpture art has an equally ancient presence in Indian Civilisations. The bronze statues of MohanJo-daro and Harappa to pillars of Ashoka and Nataraja sculptures found all across India lay the background of a rich tradition of Indian Sculpture. Temple commissioned by emperors during the Cholas and Hoyshalas and Rajput Kings greatly supported Stone sculpture art form, the beauty of which can only be experienced in those temples and are beyond the expression of words. Metalwork of sculpture also flourished into a separate art form and matured into various brass works, which have kept themselves in vogue while conserving the traditional art. 
The woodcraft also developed alongside the stone sculpture and so did the Ivory art Forms. Some of which have disappeared with time while others like tribal Woodwork, Bamboo works, Utility items like boxes, decorative vases, and traditional wood figurines have managed to evolve and survive.  Marquetry is one such modern form for making wooden handicrafts, it involves inserting pieces of material into the wood to create beautiful and detailed patterns. 
Some foreign influence in woodcraft like Intarsia has also been accepted and assimilated in the Indian woodcraft Industry. Using a technique that involves laying sections of wood, metal, and ivory inside furniture, walls and floors make this woodcraft unique. Indian Jewelry making has also been a beautiful preserver of art since Indus Valley Civilisation. This art form remains the most successful and robust among all the Indian art forms because of its ability to evolve with time. It has also made a foray into home décor and Utility with some innovation and ingenuity. 
Indian Textile has been the most functional artwork as it shaped itself as per the climate, region, tradition, material, fashion, and technology. To an extent, India is thoroughly represented through the hugely diverse textile produced in various regions. From weavers of Banaras to Bandhani and Gota Artists in Rajasthan and Gujrat. From Bhagalpuri Silk of Bihar to Maysoor Silk in Karnatak. From Taant Sarees of Bengal to Dhotis from Tamilnadu and from Kashmiri  Shawl to Assam's Gamchha, India speaks through its threads Patterns, and weaving.
Art is a living Legacy through which India Lives, breaths, and Celebrates. An ongoing romantic story between this land and its people.
The best of Indian Handicraft