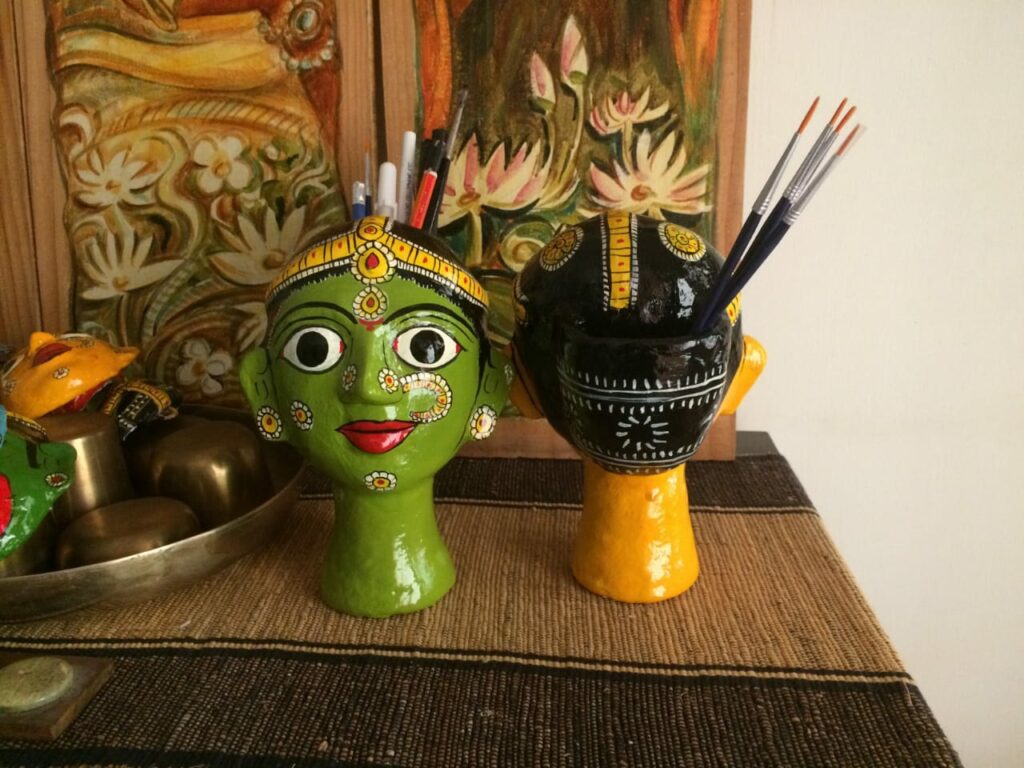 Brought together on a Canvas scrolls, made of khadi, Cheriyal Paintings are hand-painted in a style unique to the Telangana region's local motifs and iconography. Saikiran Varma received this art as a legacy from his Great grand father Venkatramiah, Grandfather Chandraiah (National Awardee) and Father Nageshwar Varma (National Awardee).
A family institution of an art which is distinct in style, conveying age-old Indian traditions and customs in a beautiful and engaging manner.
Characterized by a dominance of the color red in the background, these brilliantly hued Cheriyal paintings received Geographical Indication Status in 2007. The Stories of Lord Krishna and Lord Rama are the most prominent influences in these paintings. Cheriyal masks and dolls are modeled along the same theme of ancient Indian mythology and local folklore.
Cheriyal Scrolls were once sociologically and culturally significant. Conventionally used as a tool for educating the unlettered villagers, these painted scrolls and masks were what kept the people of the era gone-by entertained. The village bard would use these scrolls as a visual aid to go with his stories and ballads. Today replaced by more mainstream ways of storytelling and entertainment these scrolls have all but phased out, leaving not many artists who still practice this dying art form. 
Saikiran and his family is striving hard in keeping this disappearing art alive, and Hasthcraft is glad to play a significant role in their journey.
Cheriyal Painting by Sai Kumar Verma