Sale!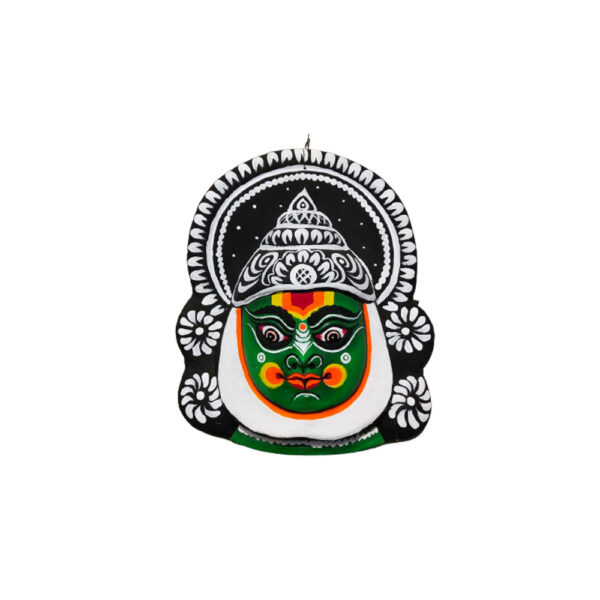 Chhao Art-"Kathakali Face Chhau Mask "
-17% OFF
Chhau, a captivating traditional art form originating from the eastern Indian state of West Bengal, is a vibrant dance-drama that combines elements of martial arts, storytelling, and folk traditions. This ancient art form, deeply rooted in the region's culture, showcases a unique blend of graceful movements, intricate mask work, and mesmerizing music.  Chhau is more than just a performance; it is a living testament to the artistic prowess and cultural identity of the region, captivating audiences and continuing to thrive as a cherished part of India's diverse artistic tapestry.
Chhau performances often depict mythological tales, historical events, and folklore, with the dancers donning colorful and elaborate masks representing various characters. The energetic and rhythmic dance movements, accompanied by traditional musical instruments, create an enchanting spectacle that not only entertains but also preserves and celebrates the rich heritage of West Bengal.
This artwork is made by National Merittee Awardee Shri Dharmendra Sutradar.
The artwork is original with the signature done by the artist and delivered directly from the artist gallery to the hands of consumer.
The artwork comes unframed in the size of 22.86*15.24 square Cm and available for customization,for customization contact us on 9540767331 or write to us at hello@hasthcraft.com
5 in stock
Item will be shipped in 1-2 business days
Specifications
| | |
| --- | --- |
| Weight | 0.5 kg |
| Dimensions | 22.86 × 15.24 × 5.08 cm |
| material | Clay, Color :Acrylic on Paper, Paper, Fevicol |
| color | Acrylic |
Description
Weight: 500 gm.
Length: 22.86Cm Width :15.24 Cm. i.e 9 Inch*6 Inch
Arrive unframed.
Being handmade, each artwork is unique in itself.
Directly shipped by the artist.
Made in India.
Signed by the artist Dharmendra Sutradar.
Painting is available in 22.86*15.24 Sq inch,for customization please contact hello@hasthcraft.com or call us on +91 9540767331
No more offers for this product!
Shipping Policy
Products are dispatched in a maximum of 1 business day or as per product policy.
Free delivery anywhere across India.
Refund Policy
Customers will get a full refund (product cost + shipping cost) in case of prepaid order.
Refunds will be processed in 3-7 Business day
Cancellation / Return / Exchange Policy
Customers can cancel an order before it is delivered to the customer.
Customers will get a full refund (product cost + shipping cost) in case of prepaid order.
Refunds will be processed in 3-7 Business days.
Return/Exchange Policy:
7 days of return/exchange from the date of product delivered
General Enquiries
There are no enquiries yet.