Sale!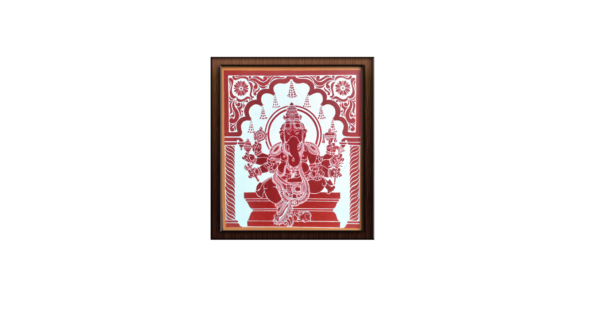 Mural- Kaavi Art: "CharurBhuj Ganesh- Four Hand Ganpati"
-17% OFF
It is heartening to note that many Kaavi art enthusiasts are seeking to revive this unique art in Goa. Though the original process is not retained, the art is no longer confined to walls. The Modern art enthusiasts work with acrylic on canvas and watercolour on paper to spread its appeal and reach to the art lovers across the world
This Unique Kaavi art on canvas, beautifully depicts 'Ganesha with His Consort Riddhi' in all his splendour and glory. The highly detailed art piece is rich with the traditional presentation style of the art form, packed with the meticulous presentation of the clothes and ornaments of the deities. Though the original art form originated and popularised as a mural art by the masons of Konkan region. The artist has managed to achieve the same three dimensional effect in this flat picture on Plywood with Lime & Mud / canvas. This Monochrome marvel mesmerises the onlookers with its detailing achieved by just one colour on a white background. This auspicious Ganesha Painting will fill the space around with positivity and Good fortune.  
Dr. Janardhana Rao Havaje is indeed a Kaavi Art artist and has completed his doctorate in Kaavi Art from Manipal University. Apart from his academic work, he has been actively involved in the development of Kaavi art both in India and internationally. He has presented rare Kaavi art at the Indian Contemporaries Art show at Art Russia-2017, Nizhny NovGorod Russia in 2017, and at the Two Zero Two One – International Collaborative Art Space Exhibition, Tasmai Gallery, Pondicherry in 2021. Additionally, he has conducted over 100 training sessions in Kaavi art.
The artwork is original with the signature done by the artist and delivered directly from the artist gallery to the hands of consumer.
The artwork comes unframed in the size of 60.96*76.2 square Cm and available for customization,for customization contact us on 9540767331 or write to us at hello@hasthcraft.com
1 in stock
Specifications
| | |
| --- | --- |
| Weight | 0.3 kg |
| Dimensions | 60.96 × 76.2 × 0.7 cm |
| color | Kaavi -Geru, Natural Colour |
| material | Lime with Red mud, Natural glue |
Description
Weight: 3000 gm.
Length: 60.96Cm Width :76.2 Cm. i.e 24 Inch*30 Inch
Arrive unframed.
Artwork is made of lime blockes with Red Mud (Kaavi-Geru (sanskrit ) top coating
Natural Glue with litle  synthetic glue technique is etched on blocks
Being handmade, each artwork is unique in itself.
Directly shipped by the artist.
Made in India.
Signed by the artist Janardhan Rao Havaje
Painting is available in 24*30 Sq inch,for customization please contact hello@hastthcraft.com or call us on +91 9540767331
No more offers for this product!
Shipping Policy
Products are dispatched in a maximum of 15 business day or as per product policy.
Free delivery anywhere across India.
Refund Policy
Customers will get a full refund (product cost + shipping cost) in case of prepaid order.
Refunds will be processed in 3-7 Business day
Cancellation / Return / Exchange Policy
Customers can cancel an order before it is delivered to the customer.
Customers will get a full refund (product cost + shipping cost) in case of prepaid order.
Refunds will be processed in 3-7 Business days.
Return/Exchange Policy:
7 days of return/exchange from the date of product delivered
General Enquiries
There are no enquiries yet.