Sale!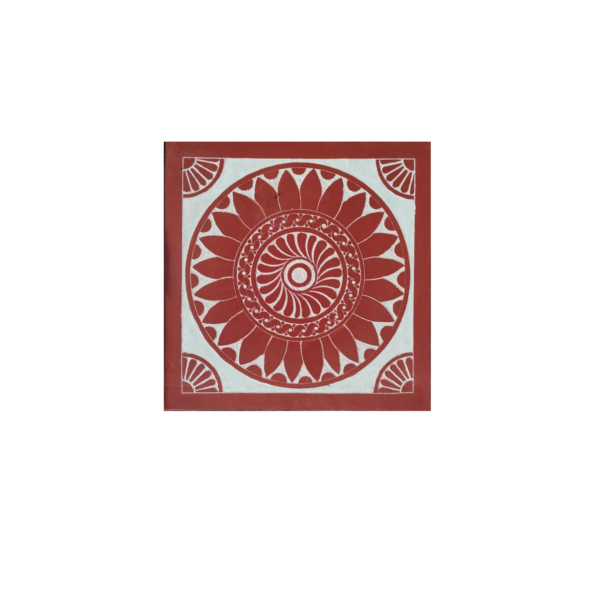 Kaavi Art "Mandala " 15″ * 15 "
-17% OFF
Kaavi art is a traditional mural art form from the Indian state of Goa that has been practiced for centuries. It is characterized by intricate designs and patterns, often inspired by nature and Hindu mythology.
Mandala painting is a traditional art form that originated in India and is now practiced worldwide. Mandalas are circular designs that represent the universe and are often used in spiritual practices and meditation. Mandala paintings are created by carefully arranging intricate patterns and designs within the circular framework. The colors used in mandala paintings are often symbolic, with each color representing a different aspect of the universe or the human psyche. Mandala painting is not only a beautiful form of art but also a means of achieving inner peace and harmony. It is practiced by people of all ages and cultures, and its popularity continues to grow.
Dr. Janardhana Rao Havaje is indeed a Kaavi Art artist and has completed his doctorate in Kaavi Art from Manipal University. Apart from his academic work, he has been actively involved in the development of Kaavi art both in India and internationally. He has presented rare Kaavi art at the Indian Contemporaries Art show at ART RUSSIA-2017, Nizhny Novgorod, RUSSIA in 2017, and at the Two Zero Two One – International Collaborative Art Space Exhibition, Tasmai Gallery, Pondicherry in 2021. Additionally, he has conducted over 100 training sessions in Kaavi art.
The artwork is original with the signature done by the artist and delivered directly from the artist gallery to the hands of consumer.
The artwork comes unframed in the size of 38.1*38.1 square Cm and available for customization,for customization contact us on 9540767331 or write to us at hello@hasthcraft.com
5 in stock
Specifications
| | |
| --- | --- |
| Weight | 0.9 kg |
| Dimensions | 38.1 × 38.1 × 0.7 cm |
| color | Kaavi -Geru, Natural Colour |
| material | Lime with Red mud, Natural glue |
Description
Weight: 900 gm.
Length: 38.1Cm Width :38.1 Cm. i.e 15 Inch*15 Inch
Arrive unframed.
Artwork is made of lime blockes with Red Mud (Kaavi-Geru (sanskrit ) top coating
Natural Glue with litle  synthetic glue technique is etched on blocks
Being handmade, each artwork is unique in itself.
Directly shipped by the artist.
Made in India.
Signed by the artist Janardhan Rao Havaje
Painting is available in 15*15 Sq inch,for customization please contact hello@hasthcraft.com or call us on +91 9540767331
No more offers for this product!
Shipping Policy
Products are dispatched in a maximum of 7 business day or as per product policy.
Free delivery anywhere across India.
Refund Policy
Customers will get a full refund (product cost + shipping cost) in case of prepaid order.
Refunds will be processed in 3-7 Business day
Cancellation / Return / Exchange Policy
Customers can cancel an order before it is delivered to the customer.
Customers will get a full refund (product cost + shipping cost) in case of prepaid order.
Refunds will be processed in 3-7 Business days.
Return/Exchange Policy:
7 days of return/exchange from the date of product delivered
General Enquiries
There are no enquiries yet.