Sale!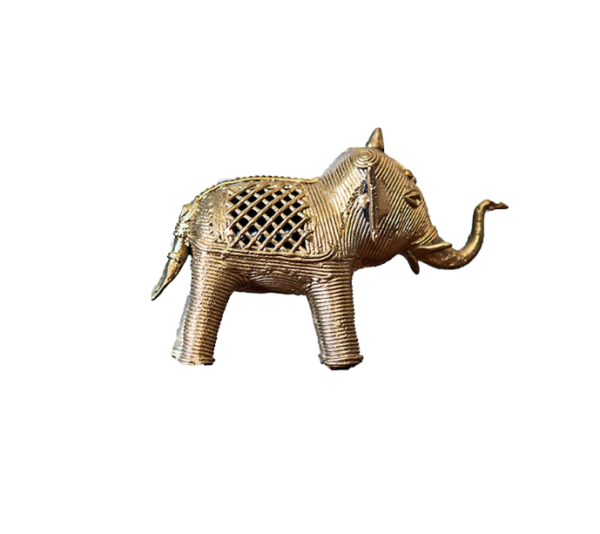 Handcrafted Brass Metal Dokra Art Elephant
-11% OFF
These masterpieces portray divine deities, mythical sagas, enchanting wildlife, and vibrant glimpses of daily life, all adorned with intricate details and mesmerizing patterns. With remarkable precision and finesse, Chhattisgarh's artisans infuse their creations with the soul-stirring essence of tribal traditions and beliefs. The resplendent allure of Chhattisgarh's Dokra art has captivated hearts both at home and abroad, garnering accolades from collectors, aficionados, and globetrotters who covet its unparalleled beauty. 
This art form resonates powerfully as a conduit for self-expression, meticulously safeguarding and magnifying the rich tapestry of tribal heritage. In the hands of these talented artisans, Dokra art in Chhattisgarh becomes an embodiment of cultural pride, enabling the vibrant traditions to transcend boundaries and leave an indelible mark on the world stage.
Uday Ram Jhara National Awardee  and Budhiari Bai State Awardee  are adding value to Dokrat craft , due to them there Jhara  community has get international recognisation 
The artwork is original and delivered directly from the artist gallery to the hands of consumer.
The artwork comes in the size of 7.62*10.16 square Cm and available for customization,for customization contact us on 9540767331 or write to us at hello@hasthcraft.com
5 in stock
Item will be shipped in 1-2 business days
Specifications
| | |
| --- | --- |
| Weight | 0.3 kg |
| Dimensions | 7.62 × 10.16 cm |
| color | Brass color |
| material | Natural Brass |
Description
Weight: 300 gm.
Length:7.62Cm Width :10.16 Cm. i.e 3 Inch*4 Inch
Being handmade, each artwork is unique in itself.
Directly shipped by the artist.
Made in India.
Signed by the artist National Awardee Uday Ram Jhara and State Awardee Budhiari Bai
Painting is available in 3*4 Sq inch,for customization please contact hello@hasthcraft.com or call us on +91 9540767331
No more offers for this product!
Shipping Policy
Products are dispatched in a maximum of 1 business day or as per product policy.
Free delivery anywhere across India.
Refund Policy
Customers will get a full refund (product cost + shipping cost) in case of prepaid order.
Refunds will be processed in 3-7 Business day
Cancellation / Return / Exchange Policy
Customers can cancel an order before it is delivered to the customer.
Customers will get a full refund (product cost + shipping cost) in case of prepaid order.
Refunds will be processed in 3-7 Business days.
Return/Exchange Policy:
7 days of return/exchange from the date of product delivered
General Enquiries
There are no enquiries yet.