Sale!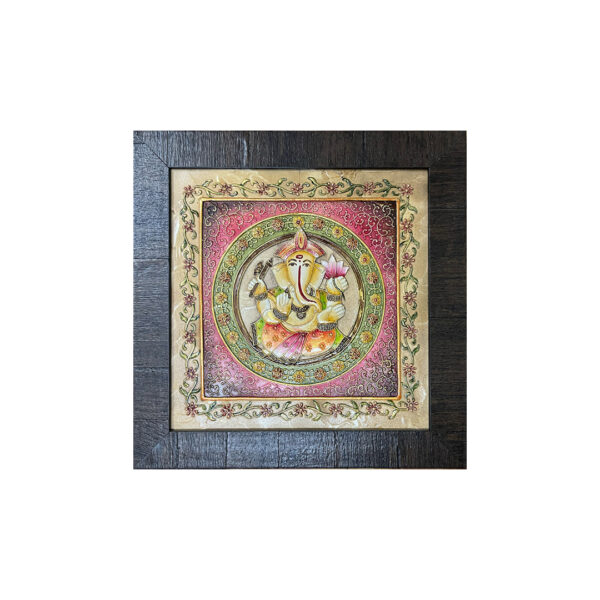 Mural Painting :"Ganpati"
-16% OFF
This traditional Mural painting depicts Lord Ganesha who is the Lord of Obstacles remover and Ruler of Dharma. Seated upon His throne, he guides our karmas through creating and removing obstacles from our path. We seek his permission and blessings in every undertaking. This relief work painting expresses a theme of spirituality through its colors and emblems. Furthermore, this painting is brought to life by its texture, three-dimensional effects are used to give the viewer a realistic impression of the artwork.This creative work is done by an authentic master craftsman, Arvind Gangal. He has been honored with the Delhi state award in 2019 for his excellence in creating the finest handcrafts.
The mural is the only form of painting that is truly three-dimensional since it modifies and partakes of a given space. Mural painting is inherently different from all other forms of pictorial art in that it is organically connected with architecture. Indian Mural Paintings are paintings made on walls of caves and palaces. In the old scripts and literature, there was much evidence of mural paintings. Indian art culture displays an abounding tradition of mural paintings mostly dating back to the 9th to 12th centuries CE when this form of art enjoyed royal patronage.
This handcraft is environmentally friendly as it is made on wood using stone dust in mural or relief style. This artwork can be used as a gift and a piece of decoration item in houses, offices, hotels, restaurants, and other places to give a traditional feeling.
The artwork is original with the signature done by the artist and delivered directly from the artist's gallery to the hands of the buyer.
5 in stock (can be backordered)
Item will be shipped in 1-2 business days
Specifications
| | |
| --- | --- |
| Weight | 1 kg |
| Dimensions | 38.1 × 38.1 × 2 cm |
| color | Background Red |
Description
Size: 15*15 square inches
Directly shipped by the artist.
Product is framed.
Being handmade, each artwork is unique in itself.
Made in India.
Signed by the artist Arvind Gangal.
Available for customization, for customization contact us on 9540767331 or write to us at hello@hasthcraft.com
No more offers for this product!
Shipping Policy
Products are dispatched in a maximum of 1 business day or as per product policy.
Free delivery anywhere across India.
Refund Policy
Customers will get a full refund (product cost + shipping cost) in case of prepaid order.
Refunds will be processed in 3-7 Business days.
Cancellation / Return / Exchange Policy
Customers can cancel an order before it is delivered to the customer.
Customers will get a full refund (product cost + shipping cost) in case of prepaid order.
Refunds will be processed in 3-7 Business days.
Return/Exchange Policy:
7 days of return/exchange from the date of product delivered
General Enquiries
There are no enquiries yet.