Sale!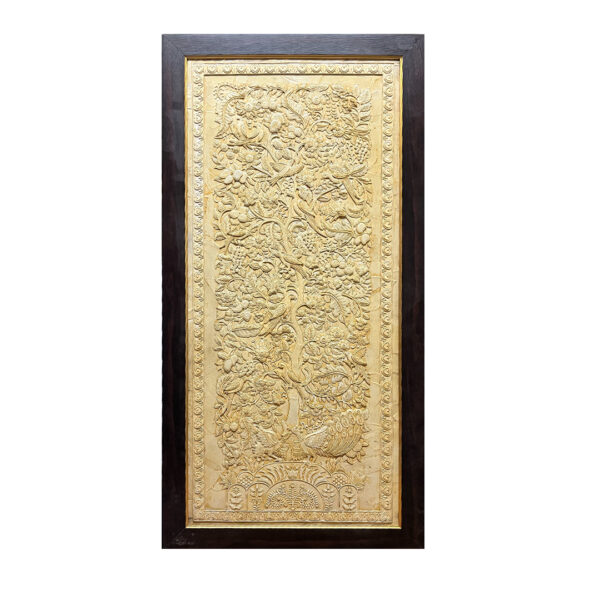 Mural Painting:"Tree of life "
-1% OFF
This attractive Mural painting depicts a Tree of life created with a golden color that gives a fine look to the entire relief art. The tree of life serves as a constant reminder to humans to rise up through the tree to tread the path to enlightenment and purification. Trees are symbolic of growth, strength, individuality, stability, and beauty; and give a sense of hope, peace, and calm. Two peacocks standing under the tree on either side enhance the grace of the artwork. Three-dimensional effects are used to give the viewer a realistic impression of the artwork. This creative work is done by an authentic master craftsman, Arvind Gangal. He has been honored with Delhi state award in 2019 for his excellence in creating finest handcrafts.
Mural painting applied to and made integral with the surface of a wall or ceiling. Indian Mural Paintings are paintings made on walls of caves and palaces. The earliest evidence of murals is the beautiful frescoes painted on the caves of Ajanta and Ellora, also on the Bagh caves and Sittanvasal. Mural is the only form of painting that is truly three-dimensional, since it modifies and partakes of a given space. Mural painting is inherently different from all other forms of pictorial art in that it is organically connected with architecture.
This handcraft is environmentally friendly as it is made on wood using stone dust in mural or relief style. This artwork can be used as a gift and a piece of decoration item in houses, offices, hotels, restaurants and other places to give a traditional feeling.
The artwork is original with the signature done by the artist and delivered directly from the artist's gallery to the hands of the buyer.
5 in stock (can be backordered)
Item will be shipped in 1-2 business days
Specifications
| | |
| --- | --- |
| Weight | 5 kg |
| Dimensions | 93.98 × 45.72 × 3 cm |
| color | Light Apricot |
Description
Size: 37*18 square inches
Directly shipped by the artist.
Product is framed.
Being handmade, each artwork is unique in itself.
Made in India.
Signed by the artist Arvind Gangal.
Available for customization, for customization contact us on 9540767331 or write to us at hello@hasthcraft.com
No more offers for this product!
Shipping Policy
Products are dispatched in a maximum of 1 business day or as per product policy.
Free delivery anywhere across India.
Refund Policy
Customers will get a full refund (product cost + shipping cost) in case of prepaid order.
Refunds will be processed in 3-7 Business days.
Cancellation / Return / Exchange Policy
Customers can cancel an order before it is delivered to the customer.
Customers will get a full refund (product cost + shipping cost) in case of prepaid order.
Refunds will be processed in 3-7 Business days.
Return/Exchange Policy:
7 days of return/exchange from the date of product delivered
General Enquiries
There are no enquiries yet.