Sale!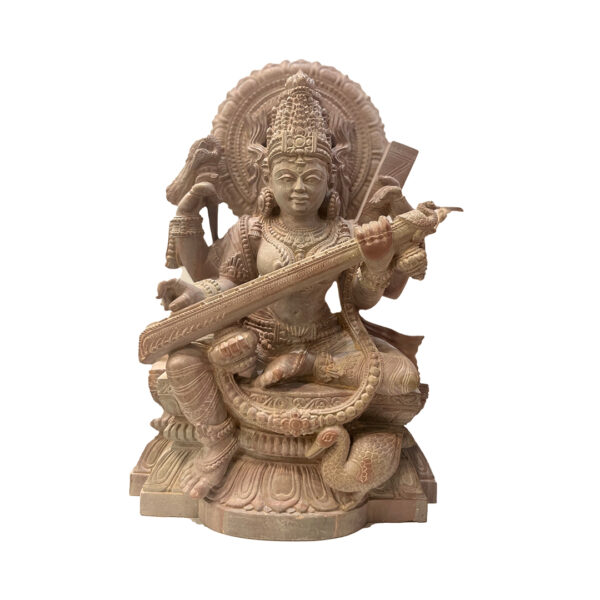 Stone Craving "Ma Saraswati"
-17% OFF
"The state of Odisha, situated in the east of India, is renowned for its rich cultural legacy and traditional handicrafts. Skilled artisans in Odisha create intricate statues and sculptures of various deities, including the Goddess Saraswati, from exquisite pink stone using age-old techniques and tools.
These statues are truly works of art, valued for their impeccable craftsmanship, spiritual significance, and aesthetic appeal. Adorning homes, temples, and other sacred spaces, these statues of the Hindu goddess of knowledge, music, arts, and wisdom exude power and beauty, capturing the essence of Odisha's rich artistic traditions and cultural heritage."
Ashok KumarMaharana  is a renowned stone artist from Odisha, a state located in eastern India. He is known for his exceptional skills in creating intricate sculptures and statues from various types of stones, including marble, sandstone, and granite.
Pinkstone is a popular choice for stone art in Odisha because of its ability to hold intricate carvings and designs, as well as its natural beauty. It is often used in combination with other types of stone, such as black granite or white marble, to create contrast and enhance the overall aesthetic appeal of the artwork.
The stone art of Odisha was granted a Geographical Indication (GI) tag in 2010, recognizing it as a unique and distinctive form of art that is associated with the region.
The artwork is original with the signature done by the artist and delivered directly from the artist gallery to the hands of consumer.
The artwork comes in the size of 12.7*10.16*17.78 square Cm and available for customization,for customization contact us on 9540767331 or write to us at hello@hasthcraft.com
5 in stock
Specifications
| | |
| --- | --- |
| Weight | 6 kg |
| Dimensions | 12.7 × 10.16 × 17.78 cm |
| color | Pink stone |
| material | Pink stone , Stone art of Odisha |
Description
Weight: 6000 gm.
Length: 12.7Cm Width :10.16 Cm Height:17.78. i.e 5 Inch*4 Inch*7 Inch
Arrive unframed.
Being handmade, each artwork is unique in itself.
Directly shipped by the artist.
Made in India.
Signed by the artists Ashok KumarMaharana
Statue is available in 5*4*7 Sq inch,for customization please contact hello@hastthcraft.com or call us on +91 9540767331
No more offers for this product!
Shipping Policy
Products are dispatched in a maximum of 1 business day or as per product policy.
Free delivery anywhere across India.
Refund Policy
Customers will get a full refund (product cost + shipping cost) in case of prepaid order.
Refunds will be processed in 3-7 Business day
Cancellation / Return / Exchange Policy
Customers can cancel an order before it is delivered to the customer.
Customers will get a full refund (product cost + shipping cost) in case of prepaid order.
Refunds will be processed in 3-7 Business days.
Return/Exchange Policy:
7 days of return/exchange from the date of product delivered
General Enquiries
There are no enquiries yet.