Sale!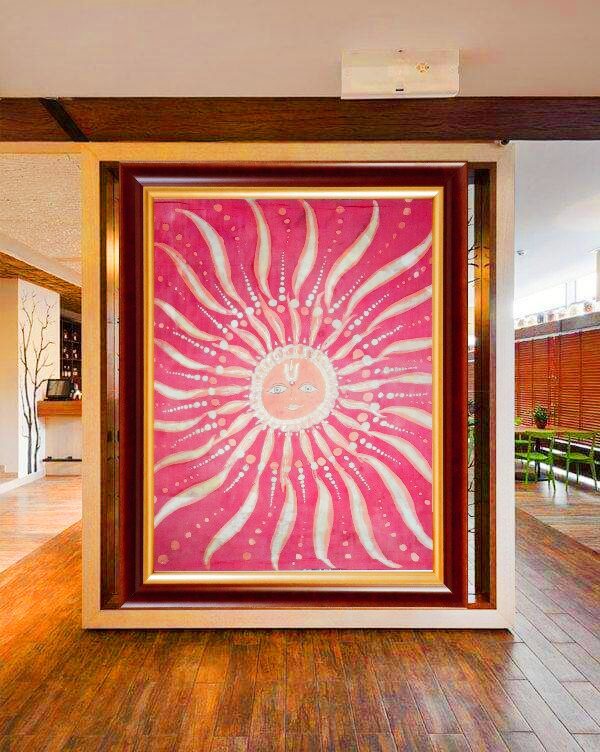 Batik Painting:"Surya Dev (Sun)"
-20% OFF
This dazzling Batik Painting of Surya Dev (The Sun) is represented in an artistic way. In Indian culture the sun is called Surya Dev who is one of the powerful Gods, a symbol of royalty and divinity. This creative work is done by an authentic artist Archna Gupta from Delhi. She has been honored with a state award for her excellence in various art forms of India.
Batik painting originated from the island of Java, Indonesia. Batik is made either by drawing dots and lines of the resist with a spouted tool called a wanting or by printing the resist with a copper stamp called a cap. The applied wax resists dyes and therefore allows the artisan to color selectively by soaking the cloth in one color and removing the wax with boiling water.
These paintings are handmade on cambric fabric using traditional batik colors. A perfect thing to complement your living space, Hasthcraft here presents this beautiful wall decor. It comes in an appropriate size to match up with your interiors well.
The artwork is original with the signature done by the artist and delivered directly from the artist's gallery to the hands of the buyer.
1 in stock (can be backordered)
Specifications
| | |
| --- | --- |
| Weight | 0.2 kg |
| Dimensions | 86 × 96 × 0.1 cm |
| material | cambric fabric |
| color | Special traditional batik colors |
Description
Weight: 200gm.
Length: 86Cm Width: 96Cm.
Arrive unframed.
Handmade on cambric fabric using special traditional batik colors.
Being handmade, each artwork is unique in itself.
Directly shipped by the artist.
Made in India.
Signed by the artist Archna Gupta.
Painting is available in 86*96 Sq Cm, for customization please contact hello@hastthcraft.com or call us on +91 9540767331
No more offers for this product!
General Enquiries
There are no enquiries yet.