Sale!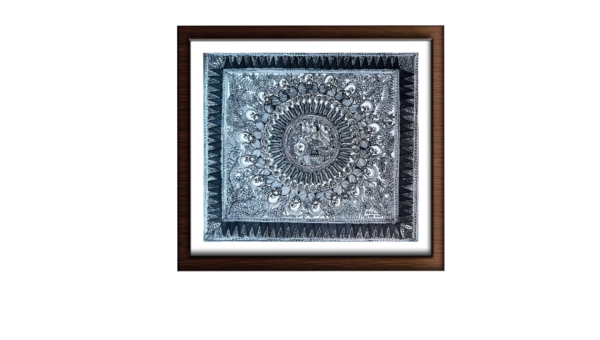 Madhubani Painting "Durga Raas"
-17% OFF
Durga Raas is a popular theme in Madhubani painting, and Uttam prasad paswan is one of the artists who has created an artwork based on this theme.
Durga Raas is a depiction of the Hindu goddess Durga dancing with her lion, which is a popular scene in Hindu mythology. In Dharmshila Devi's Madhubani painting of Durga Raas, the goddess is shown in the center, surrounded by her lion and other mythical creatures. The painting is characterized by intricate designs and vibrant colors, which are the hallmarks of Madhubani art. The background of the painting features natural elements such as trees and flowers, which add to the overall beauty of the scene.
Uttam Prasad Paswan  is a renowned Madhubani artist who has been practicing this art form for many years. Her artwork is known for its attention to detail, intricate designs, and vibrant colors. Her Madhubani painting of Durga Raas is a beautiful representation of this popular scene from Hindu mythology, and it showcases the unique and intricate designs, vibrant colors, and style that make Madhubani art so fascinating and special.
The colors used in Madhubani paintings are also significant, with each color representing a different emotion or meaning. For example, red represents love and passion, while blue represents the divine and spiritual.
The artwork is original with the signature done by the artist and delivered directly from the artist gallery to the hands of consumer.
The artwork comes in the size of 15.24*15.24 square Cm and available for customization,for customization contact us on 9540767331 or write to us at hello@hasthcraft.com
5 in stock
Specifications
| | |
| --- | --- |
| Weight | 0.3 kg |
| Dimensions | 15.24 × 15.24 × 2 cm |
| color | BLACK, Blue, Natural Colour |
| material | Hand-Made Paper |
Description
Weight: 300 gm.
Length: 15.24Cm Width :15.24 Cm. i.e 6 Inch*6 Inch
Arrive unframed.
Being handmade, each artwork is unique in itself.
Directly shipped by the artist.
Made in India.
Signed by the artist Uttam Prasad Paswan
Painting is available in 6*6 Sq inch,for customization please contact hello@hastthcraft.com or call us on +91 9540767331
No more offers for this product!
Shipping Policy
Products are dispatched in a maximum of 1 business day or as per product policy.
Free delivery anywhere across India.
Refund Policy
Customers will get a full refund (product cost + shipping cost) in case of prepaid order.
Refunds will be processed in 3-7 Business day
Cancellation / Return / Exchange Policy
Customers can cancel an order before it is delivered to the customer.
Customers will get a full refund (product cost + shipping cost) in case of prepaid order.
Refunds will be processed in 3-7 Business days.
Return/Exchange Policy:
7 days of return/exchange from the date of product delivered
General Enquiries
There are no enquiries yet.