Sale!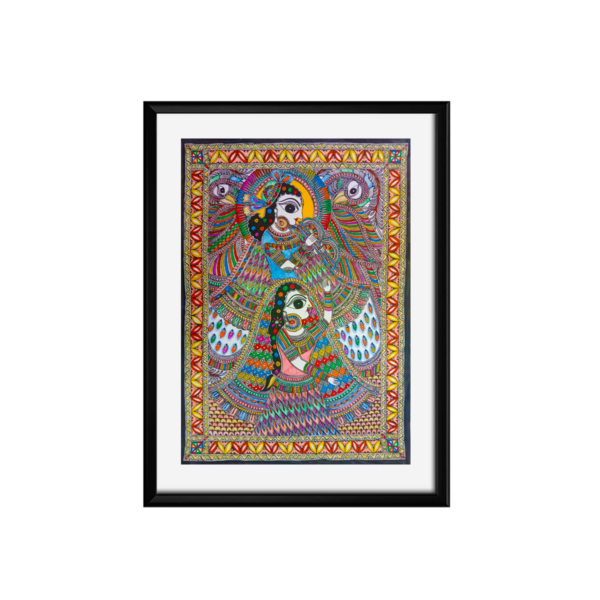 Madhubani Painting:"Radha and Krishna"
-12% OFF
The theme depicts the Radha's connection to Krishna as of two types: svakiya-rasa (married relationship) and parakiya-rasa (a relationship signified with eternal mental "love"). divinity of the Hindu God Krishna & Radha who are mesmerized and engrossed in spiritual love.
The Radha-Krishna amour is a love legend of all times. It depicts Radha & Krishna in a blissful garden along with a peacock's encounter which brings to the attention of humanity the true picture of love and devotion.
This beautiful picture is created by a renowned artist Ambika Devi who has won National award, World Craft Council Award from UNESCO, and many other awards for her contribution to Indian art.
Mithila, a region in the state of Bihar, has an important tradition of knowledge in the form of paintings. Madhubani paintings (also known as Mithila paintings) have been practiced by the women of the region through the centuries and today it is considered as a living tradition of Mithila. The art not only depicts the social structure but also the cultural identity of the land with its depictions on themes of religion, love and fertility.
These paintings by Hasthcraft are dedicated to making that difference, hand-painted on handmade paper with acrylic and natural multi colors by the original artist.
The artwork is original and signed by the artist and delivered directly from the artist's gallery to the hands of the buyer.
5 in stock (can be backordered)
Item will be shipped in 1-2 business days
Specifications
| | |
| --- | --- |
| Weight | 0.25 kg |
| Dimensions | 76.2 × 55.88 × 1 cm |
| color | Acrylic, Natural Colour |
| material | Handmade Paper Sheet |
Description
Weight: 250
Dimension: 76.2 Cm x 55.88
Color :Natural Color & Acrylic color mixed
Arrive unframed
Being handmade, each artwork is unique in itself
Made in India
Signed by artist Ambika Devi.
Directly shipped by the artist.
Painting is available in 22 Inch x 30 Inches, for customization please contact hello@hasthcraft.com or call us on +91 9540767331.
No more offers for this product!
Shipping Policy
Products are dispatched in a maximum of 1 business day or as per product policy.
Free delivery anywhere across India.
Refund Policy
Customers will get a full refund (product cost + shipping cost) in case of prepaid order.
Refunds will be processed in 3-7 Business days.
Cancellation / Return / Exchange Policy
Customers can cancel an order before it is delivered to the customer.
Customers will get a full refund (product cost + shipping cost) in case of prepaid order.
Refunds will be processed in 3-7 Business days.
Return/Exchange Policy:
7 days of return/exchange from the date of product delivered
General Enquiries
There are no enquiries yet.