Sale!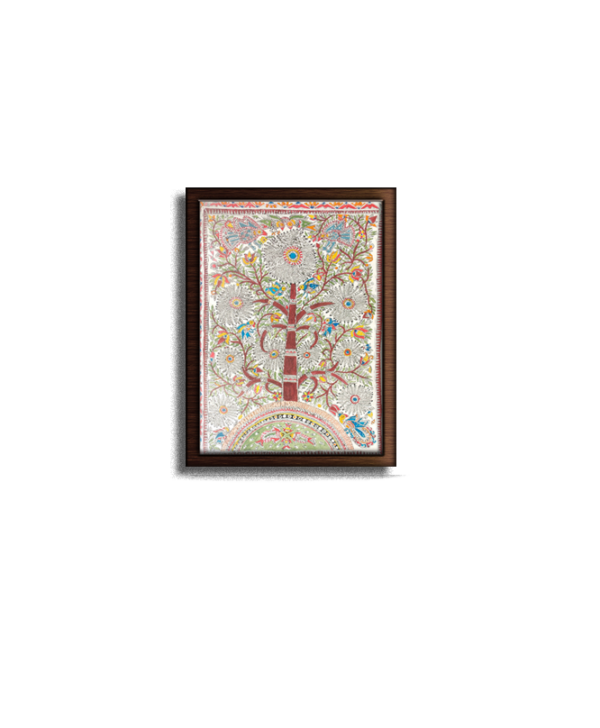 Madhubani Painting "Tree of life"or Kalp Taru
-18% OFF
In modern times, the Tree of Life remains a popular symbol used in art, literature, and spirituality. It is often used as a visual representation of the interconnectedness of all things and as a reminder of our place in the natural world.
The image of the tree can be seen in various forms, including paintings, sculptures, tattoos, and jewelry. Overall, the Tree of Life is a powerful symbol that transcends cultures and religions, representing the inherent unity and diversity of all life on Earth.
The Tree of Life has also been associated with various mythologies and religions. In Norse mythology, Yggdrasil is the Tree of Life that connects the nine worlds, while in Hinduism, the banyan tree is seen as a symbol of the universe. In the Bible, the Tree of Life is mentioned in both the Old and New Testaments as a symbol of eternal life.
Shanti Devi's paintings are known for their intricate geometric patterns and vibrant colors. Her work often depicts scenes from Hindu mythology and everyday life, portraying the beauty and diversity of the Mithila region. Through her art, she has brought recognition and fame to the art form and the region, serving as an inspiration to many aspiring artists.
Shanti Devi's contributions to the field of Madhubani painting have been widely recognized. She has won numerous awards and honors, including the National Award for Master Crafts Person, presented to her by the President of India in 2008.
Shanti Devi & Navin jha uses natural colors in their paintings, keeping alive the traditional techniques and practices of the art form. Natural colours are a vital component of Madhubani painting, and their use contributes to the uniqueness and appeal of the art form.
The artwork is original with the signature done by the artist and delivered directly from the artist gallery to the hands of consumer.
The artwork comes in the size of 55.88*76.2 square Cm and available for customization,for customization contact us on 9540767331 or write to us at hello@hasthcraft.com
5 in stock
Specifications
| | |
| --- | --- |
| Weight | 0.47 kg |
| Dimensions | 55.88 × 76.2 × 2 cm |
| color | Natural Color (Vegitable,Flower etc), Natural Colour |
| material | Handmade Paper Sheet |
Description
Weight: 470 gm.
Length: 55.88Cm Width :76.2 Cm. i.e 22 Inch*30 Inch
Arrive unframed.
Natural color.The colors are derived from natural sources such as flowers, leaves, and minerals, and are used to create vibrant and intricate designs in the paintings.
Being handmade, each artwork is unique in itself.
Directly shipped by the artist.
Made in India.
Signed by the artists Smt. Shanti Devi(National Awardee) & Navin Jha (State Awardee) 
Painting is available in 22 *30 Sq inch,for customization please contact hello@hastthcraft.com or call us on +91 9540767331
No more offers for this product!
Shipping Policy
Products are dispatched in a maximum of 1 business day or as per product policy.
Free delivery anywhere across India.
Refund Policy
Customers will get a full refund (product cost + shipping cost) in case of prepaid order.
Refunds will be processed in 3-7 Business day
Cancellation / Return / Exchange Policy
Customers can cancel an order before it is delivered to the customer.
Customers will get a full refund (product cost + shipping cost) in case of prepaid order.
Refunds will be processed in 3-7 Business days.
Return/Exchange Policy:
7 days of return/exchange from the date of product delivered
General Enquiries
There are no enquiries yet.