Sale!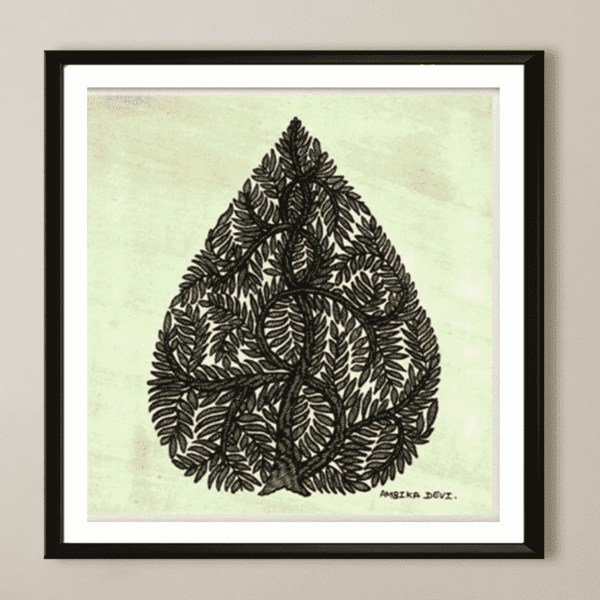 Madhubani Painting: Tree of life (36″ x 36 ")
-18% OFF
Mithila, a region in the state of Bihar, has an important tradition of knowledge in the form of paintings. Madhubani paintings (also known as Mithila paintings) have been practiced by the women of the region through the centuries and today it is considered a living tradition of Mithila. The art not only depicts the social structure but also the cultural identity of the land with its depictions of themes of religion, love, and fertility.
The Tree of Life is a concept found in many cultures and religions throughout history, representing the interconnectedness of all living things and the evolutionary history of life on Earth. The concept is often depicted as a tree with branches representing different groups of organisms, with the roots representing the common ancestors of all life.
In biology, the Tree of Life refers to the phylogenetic tree, which shows the evolutionary relationships between different species of organisms. This tree is based on the analysis of genetic, morphological, and other data, and represents the branching patterns of life on Earth over millions of years.
This beautiful work is by Ambika Devi who has won a National award, World Craft Council Award from UNESCO and many other awards for her contribution to Indian art.
This artwork is done on handmade paper with acrylic and natural multi-colors. If you are searching for a painting for your home/office or to give to someone, then these Madhubani art paintings serve as the perfect choice.
The artwork is original with the signature done by the artist and delivered directly from the artist's gallery to the hands of the consumer.
The artwork comes in the size of 36 *36 square Inch and is available for customization, for customization contact us on 9540767331 or write to us at hello@hasthcraft.com
1 in stock (can be backordered)
Item will be shipped in 2-3 weeks
Specifications
| | |
| --- | --- |
| Weight | .55 kg |
| Dimensions | 91.44 × 91.44 × .2 cm |
| color | Acrylic & Natural Mixed |
| material | Handmade on Handmade paper |
Description
Weight: 550 gm.
Length: 91.44 Cm Width: 91.44 Cm. i.e 36 Inch*36 Inch
Arrive unframed.
Acrylic color on handmade paper and natural multi-colors.
Being handmade, each artwork is unique in itself.
Directly shipped by the artist.
Made in India.
Signed by the artist Ambika Devi
Painting is available in 36 *36 Sq inch, for customization please contact hello@hasthcraft.com or call us on
No more offers for this product!
Shipping Policy
Products are dispatched in a maximum of 1 business day or as per product policy.
Free delivery anywhere across India.
Refund Policy
Customers will get a full refund (product cost + shipping cost) in case of prepaid order.
Refunds will be processed in 3-7 Business days.
Cancellation / Return / Exchange Policy
Customers can cancel an order before it is delivered to the customer.
Customers will get a full refund (product cost + shipping cost) in case of prepaid order.
Refunds will be processed in 3-7 Business days.
Return/Exchange Policy:
7 days of return/exchange from the date of product delivered
General Enquiries
There are no enquiries yet.