Sale!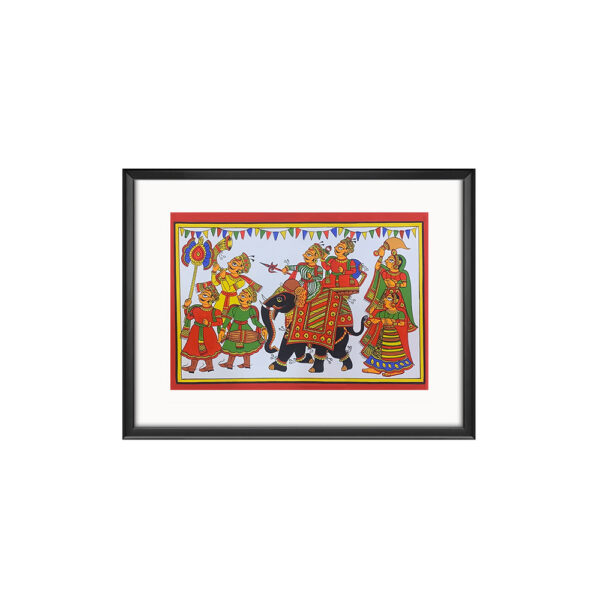 Traditional Phad Painting:"Royal Entourage"
-14% OFF
This striking Phad Painting depicts a Royal King traveling with their entourage, created by renowned 'Phad' artist Kalyan Joshi.  The royal king is sitting together on an Elephant, traveling along with scores of Musicians and courtiers, and Royal attendants. The painting is drawn with traditional colors of 'Phad' Art and fine golden linings on a White background.

Kalyan Joshi comes from a lineage of Phad painters which dates back to 13th century. He started painting from the age of 8 with his father Shri Lal Joshi who was an acclaimed Padma Shree honoree. Kalyan Joshi has experimented with new stories, contemporary style painting and line drawing. He is the founder of "Ankan Artist Group". Since 1990 he has conducted 200 workshops at various Schools all over India. He has been honored with multiple awards and certificates for his incredible contributions to this beautiful art such as National Award by Govt. of India, 2010, National Merit Award by Govt. of India, 2006 Gauri Shankar Mehta Award and 2008 Maru Parampara, etc.
Phad is an indigenous painting style of the state of Rajasthan, India, that depicts the narratives of the folk deities of the state. This style of painting is the blend of Rajput and Mughal styles of painting. Originated thousands of years ago, this fabled heritage of Bhilwara is done on a long piece of canvas called Phad. Mostly, the stories of the folk deity Pabuji and the Gurjar Warrior, Devnarayanji are depicted on Phads. In ancient times, the storytellers would travel from village to village and narrate the stories using Phads as their pictorial depiction tool. Singing and dancing made integral part of storytelling.
These 'Phad' paintings are handmade with natural pigment colors on cloth. A Perfect thing to decorate in homes, offices and business places.
The artwork is original with the signature done by the artist and delivered directly from the artist's gallery to the hands of the buyer.
2 in stock
Item will be shipped in 1-2 business days
Specifications
| | |
| --- | --- |
| Weight | .2 kg |
| Dimensions | 27.94 × 35.56 × 1 cm |
| color | Natural Pigment Color |
| material | Paper |
Description
Length: With Mount 11″x 14.5″ (27.94Cm x 35.56 Cm) 
Length :Without Mount 7″ x10.5″ (17.78 Cm x 26.67 Cm)
Arrive unframed with mount
Material: Cloth.
Color: Natural Pigment color 
Being handmade, each artwork is unique in itself.
Directly shipped by the artist.
Made in India.
Signed by the artist  Kalyan Joshi .
Customization please contact hello@hastthcraft.com or call us on +91 9540767331
No more offers for this product!
Shipping Policy
Products are dispatched in a maximum of 1 business day or as per product policy.
Free delivery anywhere across India
Refund Policy
Customers will get a full refund (product cost + shipping cost) in case of prepaid order.
Refunds will be processed in 3-7 Business days.
Cancellation / Return / Exchange Policy
Customers can cancel an order before it is delivered to the customer.
Customers will get a full refund (product cost + shipping cost) in case of prepaid order.
Refunds will be processed in 3-7 Business days.
Return/Exchange Policy:
7 days of return/exchange from the date of product delivered
General Enquiries
There are no enquiries yet.