Sale!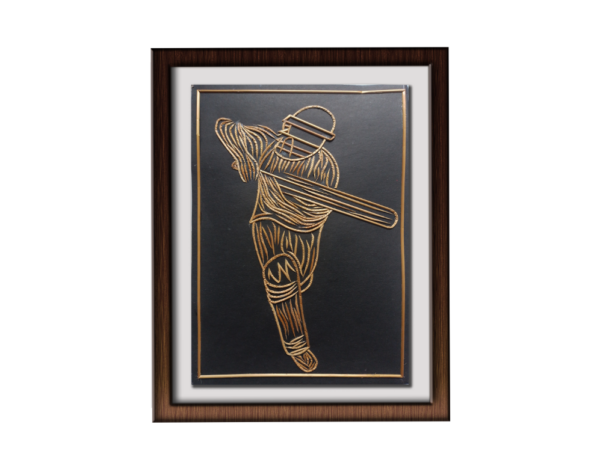 Sikki Artwork : Batsman
-18% OFF
Sikki art is a traditional Indian art form that originated in Bihar. It involves the use of special type of grass to create intricate designs and patterns, which are then used to embellish a range of objects, including jewelry, baskets, trays, and other decorative items. The process requires great skill and patience, as the strips are extremely delicate and must be carefully woven into the desired design. Sikki art is still practiced by skilled artisans today and is highly valued for its beauty and craftsmanship. The intricate and delicate designs make Sikki art a perfect choice for adding elegance and sophistication to any living space.
The Sikki artwork portrays the dynamic moment of a cricket player playing a shot with exceptional skill and precision. The artist adeptly weaves sikki grass to capture the fluid movement and energy of the player, showcasing their dedication and passion for the sport. The artwork embodies the spirit of cricket, with the player's poised stance and the graceful arc of the bat. The attention to detail and vibrant colors bring the scene to life, evoking the excitement and thrill of the game. This Sikki artwork celebrates the universal love for cricket and pays tribute to the remarkable talent and athleticism of the players.
Sudhira Devi's artistic prowess has propelled Sikki art to new heights, garnering recognition and admiration. Her passion and commitment have played a vital role in preserving and promoting this traditional art form. Sudhira Devi, a National Awardee, along with her entire family, has made significant contributions to the development of Sikki Artform.
The artwork is original and delivered directly from the artist gallery to the hands of consumer.
The artwork comes in the size of 30.48*22.86square Cm and available for customization,for customization contact us on 9540767331 or write to us at hello@hasthcraft.com
In stock
Item will be shipped in 1-2 business days
Specifications
| | |
| --- | --- |
| Weight | 0.25 kg |
| Dimensions | 30.48 × 22.86 cm |
| color | Golden-hued grass on Black Paper |
| material | Hand-Made Paper |
Description
Weight:250 gm.
Length:30.48Cm Width :22.86 Cm i.e 12 Inch*9 Inch 
Being handmade, each artwork is unique in itself.
Directly shipped by the artist.
Arrives unframed
Made in India.
Signed by the artist National Awardee Sudhira Devi
Painting is available in 12*9 Sq inch,for customization please contact hello@hasthcraft.com or call us on +91 9540767331
No more offers for this product!
Shipping Policy
Products are dispatched in a maximum of 1 business day or as per product policy.
Free delivery anywhere across India.
Refund Policy
Customers will get a full refund (product cost + shipping cost) in case of prepaid order.
Refunds will be processed in 3-7 Business day
Cancellation / Return / Exchange Policy
Customers can cancel an order before it is delivered to the customer.
Customers will get a full refund (product cost + shipping cost) in case of prepaid order.
Refunds will be processed in 3-7 Business days.
Return/Exchange Policy:
7 days of return/exchange from the date of product delivered
General Enquiries
There are no enquiries yet.