Sale!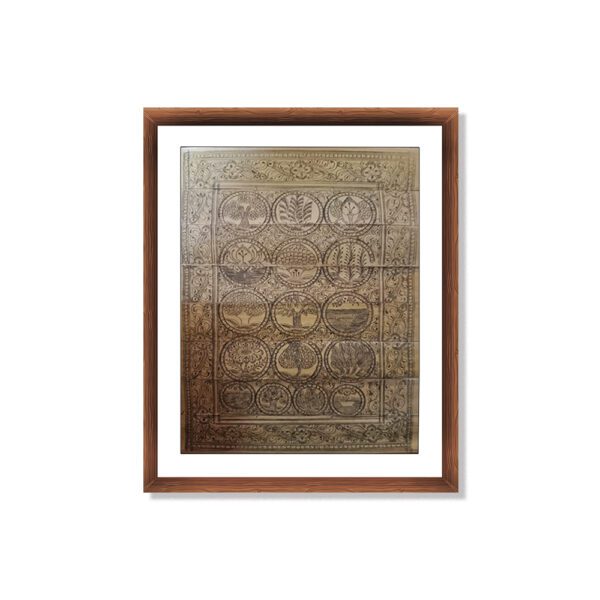 Pattachitra Art Painting :Palm leaf :"Tree Of Life"
-23% OFF
This unique Pattachitra Art Painting depicts the 'Tree of Life' as one of the most esoteric symbols that's been around for ages. On one hand, it symbolizes how all the creation emerged by God's energy substantiated and diversified into the whole of the universe, and thus connecting every physical bit with the godhead. This painting is created by an authentic pattachitra artist Ananta Mahapatra expertise in different art forms of native Orissa.
These palm leaf paintings beautifully depict mythological and religious themes from epics like the Ramayana, Mahabharata, and renderings of Lord Jaganath. The scroll paintings are made on dried and treated palm leaves. Unlike regular paintings, a sharp-pointed iron tool is used to etch the drawing on the brittle surface of the leaf. The color black, used in these scrolls is prepared from soot from an oil lamp. Other traditional colors used in some of these scrolls are derived from natural sources.
These paintings are done on Palm Leaf. A perfect thing to complement your living space, Hasthcraft here presents this beautiful wall decor. It comes in an appropriate size to match up with your interiors well.
The artwork is original with the signature done by the artist and delivered directly from the artist's gallery to the hands of the buyer.
2 in stock
Item will be shipped in 1-3 business days
Specifications
| | |
| --- | --- |
| Weight | 0.25 kg |
| Dimensions | 20.32 × 25.4 × 0.5 cm |
| color | Image traced using black ink ,Carved to give the effect of black color -filled |
| material | Palm Leaf |
Description
Weight: 100 gm.

Length: 20.32 Cm Width :25.4 Cm.

Arrive unframed.
The images are traced by using black ink with a special iron tip nib and are carved to give the effect of a black color-filled 
Material: Palm leaf 
Being handmade, each artwork is unique in itself.
Directly shipped by the artist.
Made in India.
Signed by the artist's family Shri Ananta Mahapatra 
The painting is available in 8 Inch * 10 Inches for customization contact us at +91 9540767331 or write to us at hello@hasthcraft.com .
No more offers for this product!
Shipping Policy
Products are dispatched in a maximum of 1 business day or as per product policy.
Free delivery anywhere across India.
Refund Policy
Customers will get a full refund (product cost + shipping cost) in case of prepaid order.
Refunds will be processed in 3-7 Business days.
Cancellation / Return / Exchange Policy
Customers can cancel an order before it is delivered to the customer.
Customers will get a full refund (product cost + shipping cost) in case of prepaid order.
Refunds will be processed in 3-7 Business days.
Return/Exchange Policy:
7 days of return/exchange from the date of product delivered
General Enquiries
There are no enquiries yet.