Sale!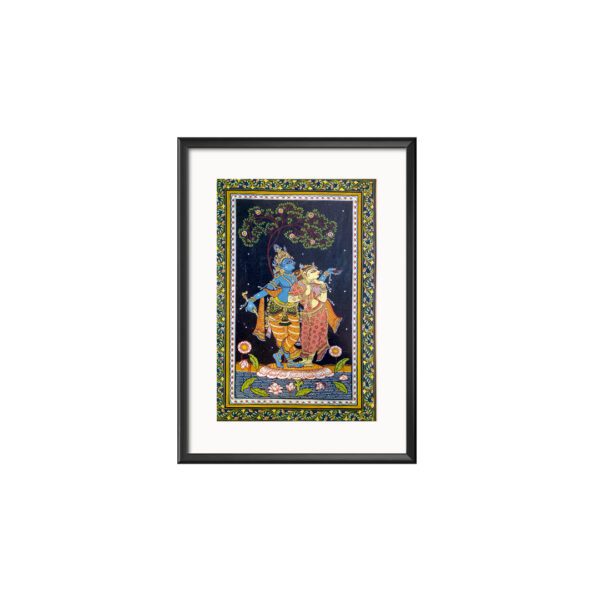 Pattachitra Art Painting : "RadhaKrishna"
-17% OFF
This eye-catchy Pattachitra Art Painting portrays RadhaKrishna, the exuberance of Radha and Krishna has been the source of illumination for musicians, artists, poets and even writers. The beguiling affection of the two has been praised and followed for ages. From traditional to contemporary, the epitome of eternal love has always been celebrated as the idea of divine love and dedication. This painting is created by an authentic Pattachitra artist Rabindra Behera expertise at Pattachitra art form native to Orissa. He has been honored with the State award in 2003 and National Merit award in 2007.
Pattachitra, meaning 'cloth-picture/painting' in Sanskrit, is a generalized term used to describe a style and format of painting with origins in Odisha (now Odisha) and West Bengal.
The art of Pattachitra paintings emerged from Puri in Odisha. Legend has it that local artists in the Puri region began painting images of the temple deities on a piece of cloth. This practice started so as to give the temple deities a break after the annual ritual bath. This form of painting on cloth came to be known as Pattachitra, Patta meaning Cloth, and Chitra meaning Painting.
These paintings are done on cloth using acrylic colors. A perfect thing to complement your living space, Hasthcraft here presents this beautiful wall decor. It comes in an appropriate size to match up with your interiors well.
The artwork is original with the signature done by the artist and delivered directly from the artist's gallery to the hands of the buyer.
5 in stock
Specifications
| | |
| --- | --- |
| Weight | .25 kg |
| Dimensions | 45.72 × 30.48 × .5 cm |
| color | Color: Multi-Color |
Description
Weight: 250 gm.
Length: 18″ x 12 "  | 45.72 Cm x 30.48 Cm.
Natural dyes on handmade canvas paper 
Arrive unframed.
Handmade canvas 
Being handmade, each artwork is unique in itself.
Directly shipped by the artist.
Made in India.
Signed by the artist Rabindra Behera.
The painting is available in 18 Inch * 12  Sq Inches for customization contact us at +91 9540767331 or write to us at hello@hasthcraft.com .
No more offers for this product!
Shipping Policy
Products are dispatched in a maximum of 1 business day or as per product policy.
Free delivery anywhere across India.
Refund Policy
Customers will get a full refund (product cost + shipping cost) in case of prepaid order.
Refunds will be processed in 3-7 Business days.
Cancellation / Return / Exchange Policy
Customers can cancel an order before it is delivered to the customer.
Customers will get a full refund (product cost + shipping cost) in case of prepaid order.
Refunds will be processed in 3-7 Business days.
Return/Exchange Policy:
7 days of return/exchange from the date of product delivered
General Enquiries
There are no enquiries yet.