Sale!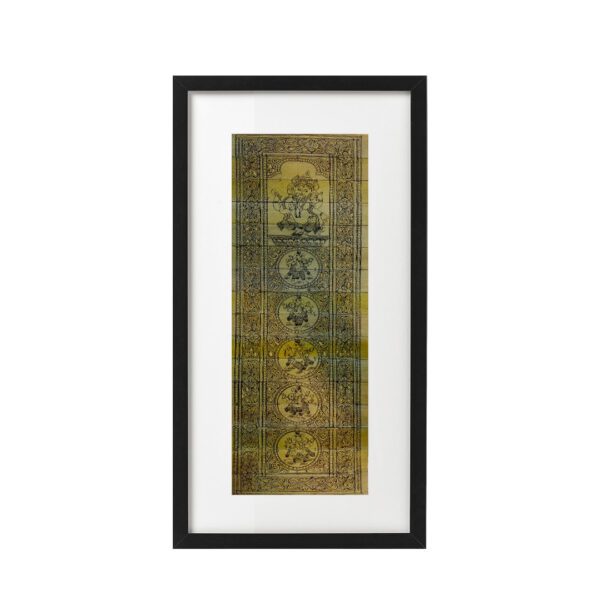 Pattachitra Art Palm-Leaf Painting : :"Lord Ganesha's six Incarnations"
-19% OFF
This traditional Pattachitra Art Painting portrays Lord Ganesha's six Incarnations, same like Lord Vishnu and Lord Shiva, who have many avatars, Lord Ganesha has eight among which six have been depicted in this artwork. These avatars were taken by the Ganpati to destroy monsters born in every era. Actually, these eight avatars were taken by Lord Ganesha to protect people from eight kinds of self-destructing habits – Kaam, Krodh, Mad, Lobh, Matsar, Moh, Ahankar and Agyan. This painting is created by an authentic pattachitra artist Rabindra Behera expertise at Pattachitra art form native to Orissa. He has been honored with the State award in 2003 and National Merit award in 2007.
Among Rabindra Behera's most famous works are those of the Odisha Patachitra. Behera's family encouraged him to pursue his art after he demonstrated great talent at the age of 11. His studies of patachitra etching began in Raghurajpur village in Puri district, Odisha, under the guidance of Jagannath Mahapatra, a well-known patachitra artist.
Pattachitra, meaning 'cloth-picture/painting' in Sanskrit, is a generalized term used to describe a style and format of painting with origins in Odisha (now Odisha) and West Bengal. The centuries-old tradition conducted by artisans, known as chitrakars, has strong technical and stylistic similarities to the classical Indian wall murals and palm-leaf manuscript illustrations.
These paintings are done on Palm Leaf. A perfect thing to complement your living space, Hasthcraft here presents this beautiful wall decor. It comes in an appropriate size to match up with your interiors well.
The artwork is original with the signature done by the artist and delivered directly from the artist's gallery to the hands of the buyer.
5 in stock
Specifications
| | |
| --- | --- |
| Weight | .1 kg |
| Dimensions | 38.1 × 12.7 × .5 cm |
| color | beige |
Description
Weight: 100 gm.
Length: 15″ x 5 "  | 38.1 Cm x 12.7 Cm.
Arrive unframed.
The images are traced by using black ink with a special iron tip nib and are carved to give the effect of a black color-filled 
Material: Palm leaf 
Being handmade, each artwork is unique in itself.
Directly shipped by the artist.
Made in India.
Signed by the artist Rabindra Behera.
The painting is available in 15 Inch * 5  Sq Inches for customization contact us at +91 9540767331 or write to us at hello@hasthcraft.com .
No more offers for this product!
Shipping Policy
Products are dispatched in a maximum of 1 business day or as per product policy.
Free delivery anywhere across India.
Refund Policy
Customers will get a full refund (product cost + shipping cost) in case of prepaid order.
Refunds will be processed in 3-7 Business days.
Cancellation / Return / Exchange Policy
Customers can cancel an order before it is delivered to the customer.
Customers will get a full refund (product cost + shipping cost) in case of prepaid order.
Refunds will be processed in 3-7 Business days.
Return/Exchange Policy:
7 days of return/exchange from the date of product delivered
General Enquiries
There are no enquiries yet.