Sale!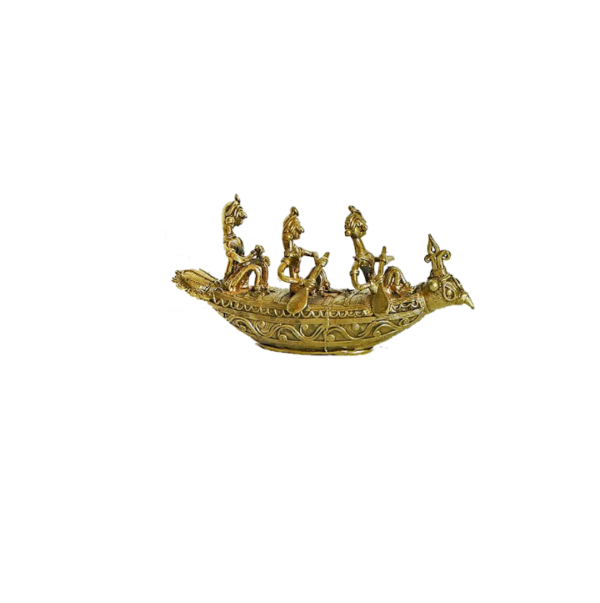 Handcrafted Brass Metal Boat
₹3,822.00 -11% OFF
In the heartland of Chhattisgarh, Dokra art thrives as a testament to indigenous brilliance. This ancient craft, using lost wax casting, transforms molten metals into mesmerizing sculptures. Inspired by deities, myths, and wildlife, artisans weave intricate motifs, capturing ancestral traditions. Dokra art from Chhattisgarh enchants worldwide, uniting generations and preserving tribal narratives. It celebrates cultural identity, embodying the enduring legacy of artistic heritage.
Uday Ram Jhara, a National Awardee, and Budhiari Bai, a State Awardee, have made significant contributions to the Dokra craft, elevating its status. Their exceptional skills and artistic prowess have garnered international recognition for the Jhara community. Through their exemplary work, they have brought prestige and acclaim to the traditional art form. Their dedication and talent have played a vital role in promoting Dokra art on a global scale, shining a spotlight on the rich cultural heritage of the Jhara community.
The artwork is original and delivered directly from the artist gallery to the hands of consumer.
The artwork comes in the size of 12.7*22.86 square Cm and available for customization,for customization contact us on 9540767331 or write to us at hello@hasthcraft.com
5 in stock
Item will be shipped in 1-2 business days
Specifications
| | |
| --- | --- |
| Weight | 1 kg |
| Dimensions | 12.7 × 22.86 cm |
| color | Brass color |
| material | Natural Brass |
Description
Weight:1000 gm.
Length:12.7Cm Width :22.86 Cm i.e 5 Inch*9 Inch 
Being handmade, each artwork is unique in itself.
Directly shipped by the artist.
Made in India.
Signed by the artist National Awardee Uday Ram Jhara and State Awardee Budhiari Bai
Painting is available in 5*9 Sq inch,for customization please contact hello@hasthcraft.com or call us on +91 9540767331
No more offers for this product!
Shipping Policy
Products are dispatched in a maximum of 1 business day or as per product policy.
Free delivery anywhere across India.
Refund Policy
Customers will get a full refund (product cost + shipping cost) in case of prepaid order.
Refunds will be processed in 3-7 Business day
Cancellation / Return / Exchange Policy
Customers can cancel an order before it is delivered to the customer.
Customers will get a full refund (product cost + shipping cost) in case of prepaid order.
Refunds will be processed in 3-7 Business days.
Return/Exchange Policy:
7 days of return/exchange from the date of product delivered
General Enquiries
There are no enquiries yet.