Sale!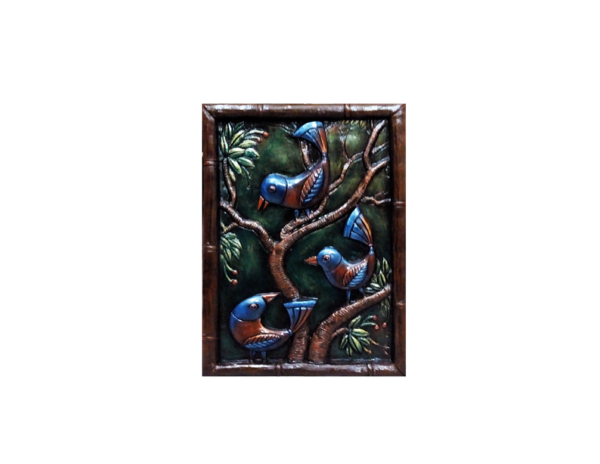 Mural Handicraft: "Birds on Branch"
-17% OFF
Indian mixed media murals are a type of mural painting that incorporates various traditional Indian art forms, techniques, and motifs along with contemporary materials and techniques. India has a rich and diverse cultural heritage, which includes various art forms such as Madhubani, Warli, Rajasthani, and Mughal miniature paintings, among others.The use of mixed media in Indian murals allows for a multi-dimensional experience, engaging viewers on visual, cultural, and tactile levels. These murals can also serve as a platform for preserving and promoting traditional Indian art forms and techniques, while also incorporating contemporary elements to create a modern and relevant work of art.
Mural painting is inherently different from all other forms of pictorial art in that it is organically connected with architecture. The use of color, design and thematic treatment can radically alter the sense of spatial proportions of the building. Mural is the only form of painting that is truly three-dimensional, since it modifies and partakes of a given space. Indian Mural Paintings are paintings made on walls of caves and palaces. In the old scripts and literature, there was much evidence of mural paintings. 
These paintings are handmade using mixed media and Terracotta on Plywood. A perfect thing to complement your living space, Hasthcraft here presents this beautiful wall decor. It comes in an appropriate size to match up with your interiors well.
The artwork is original with the signature done by the artist and delivered directly from the artist gallery to the hands of consumer.
The artwork comes unframed in the size of 12.7*12.7 square Cm and available for customization,for customization contact us on 9540767331 or write to us at hello@hasthcraft.com
5 in stock
Item will be shipped in 1-2 business days
Specifications
| | |
| --- | --- |
| Weight | 0.7 kg |
| Dimensions | 35.56 × 35.56 × 2 cm |
| color | Base Color :Terracotta |
| material | plywood |
Description
Weight: 700 gm.
Length35.56Cm Width :35.56 Cm. i.e 14 Inch*14 Inch
Painting is made on plywood with terracotta color
Arrive unframed.
Being handmade, each artwork is unique in itself.
Directly shipped by the artist.
Made in India.
Signed by the artist Nitu Sinha
Painting is available in 14*14 Sq inch,for customization please contact hello@hastthcraft.com or call us on +91 9540767331
No more offers for this product!
Shipping Policy
Products are dispatched in a maximum of 1 business day or as per product policy.
Free delivery anywhere across India.
Refund Policy
Customers will get a full refund (product cost + shipping cost) in case of prepaid order.
Refunds will be processed in 3-7 Business day
Cancellation / Return / Exchange Policy
Customers can cancel an order before it is delivered to the customer.
Customers will get a full refund (product cost + shipping cost) in case of prepaid order.
Refunds will be processed in 3-7 Business days.
Return/Exchange Policy:
7 days of return/exchange from the date of product delivered
General Enquiries
There are no enquiries yet.