Sale!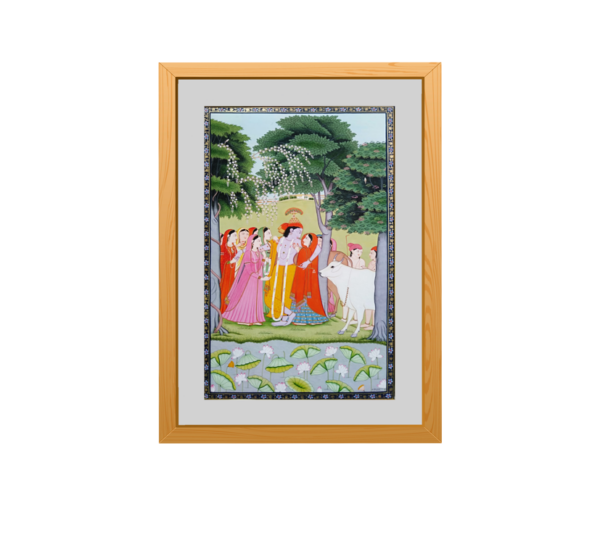 Kangra Painting- Radha Krishna and Gopiyan in Vrindavan
-18% OFF
The Kangra miniatures, part of the 'Pahari Paintings' collective, thrived during the 17th century in Himachal Pradesh. This art form is characterized by skillful use of mineral-based colors with an enamel-like sheen, rendering it the most poetic and lyrical style in Indian art. Kangra miniatures are known for their delicate lines, vibrant colors, and intricate decorative details. The portrayal of female faces with straight noses aligned to the forehead is a distinct feature of Kangra art. Popular themes depicted in these miniatures include Bhagvata Purana, Gita Govinda, Nala Damayanti, Bihari Satsai, Ragamala, and Baramasa. With serene beauty and meticulous execution, Kangra miniatures continue to captivate art enthusiasts.
The Kangra painting by National Awardee Mukesh Kumar Dhiman portrays a mesmerizing scene of Radha and Krishna standing together, their divine love radiating from the canvas. Surrounding them, a group of sakhi (ladies) encircles the divine couple, their adoration evident in their expressions. A cow stands nearby, symbolizing the purity and innocence of their love. The painting is adorned with lush greenery, bringing life to the surroundings, while a majestic tree provides shade and adds to the enchanting ambiance. With his skilled use of pigments, Dhiman creates a captivating masterpiece that captures the essence of divine love and harmony in this remarkable Kangra painting.
The artist Mukesh Kumar Diman has been trained under the celebrated Padma-Shri Award for Miniature painting and has carved his own place in the art world.
The artwork is original with the signature done by the artist and delivered directly from the artist gallery to the hands of consumer.
The artwork comes unframed in the size of 27*43 square Cm and available for customization,for customization contact us on 9540767331 or write to us at hello@hasthcraft.com
5 in stock
Item will be shipped in 1-2 business days
Specifications
| | |
| --- | --- |
| Weight | 0.4 kg |
| Dimensions | 27 × 43 × 2 cm |
| color | Natural Pigment Color |
| material | Stone Powder |
Description
Weight: 400 gm.
Length: 27Cm Width :43 Cm. i.e 10.6 Inch*16.9 Inch
Arrive unframed.
Being handmade, each artwork is unique in itself.
Directly shipped by the artist.
Made in India.
Signed by the artist Mukesh Kumar Diman
Painting is available in 27*43 Sq inch,for customization please contact hello@hasthcraft.com or call us on +91 9540767331
No more offers for this product!
Shipping Policy
Products are dispatched in a maximum of 1 business day or as per product policy.
Free delivery anywhere across India.
Refund Policy
Customers will get a full refund (product cost + shipping cost) in case of prepaid order.
Refunds will be processed in 3-7 Business day
Cancellation / Return / Exchange Policy
Customers can cancel an order before it is delivered to the customer.
Customers will get a full refund (product cost + shipping cost) in case of prepaid order.
Refunds will be processed in 3-7 Business days.
Return/Exchange Policy:
7 days of return/exchange from the date of product delivered
General Enquiries
There are no enquiries yet.