Sale!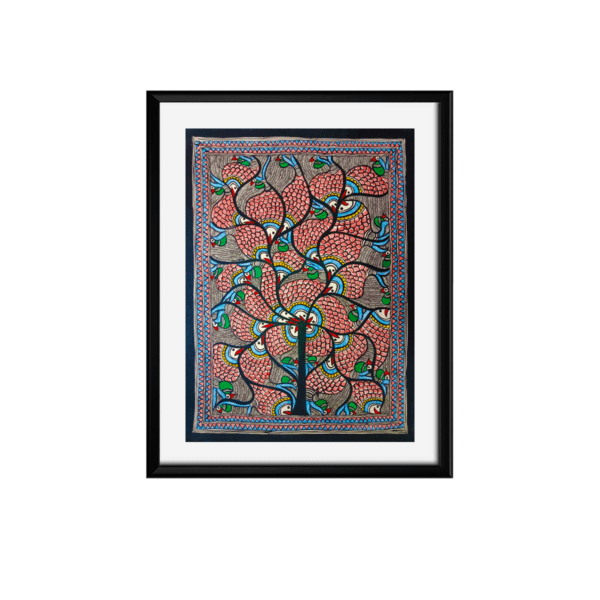 Madhubani Painting :" Tree of Life "
-6% OFF
This amazing Madhubani painting describes the coexistence among "Tree of Life" with birds and fishes. On one hand, it symbolizes how all the creation emerged by God's energy substantiated and diversified into the whole of the universe, thus connecting every physical bit with the godhead. And at the same time, it serves as a constant reminder to humans to rise up through the tree to tread the path to enlightenment and purification. Trees are symbolic of growth, strength, individuality, stability, and beauty; and give a sense of hope, peace, and calm.
This beautiful work is by Ambika Devi who has won the National award, World Craft Council Award from UNESCO, and many other awards for her contribution to Indian art.
Madhubani paintings (also known as Mithila paintings) have been practiced by the women of the region through the centuries and today it is considered as a living tradition of Mithila and is among the most famous paintings in the world.
This artwork is done on handmade paper with acrylic and natural multi-colors. If you are searching for a painting for your home/office or to give to someone, then these Madhubani art paintings serve as the perfect choice.
The artwork is original and signed by the artist and delivered directly from the artist's gallery to the hands of the buyer.
5 in stock (can be backordered)
Specifications
| | |
| --- | --- |
| Weight | 0.25 kg |
| Dimensions | 76.2 × 55.88 × 1 cm |
| color | Acrylic, Natural Colour |
| material | Handmade Paper Sheet |
Description
Weight: 250 
Dimension: 76.2 Cm x 55.88
Color :Natural Color & Acrylic color mixed
Arrive unframed 
Being handmade, each artwork is unique in itself  
Made in India 
Signed by artist Ambika Devi.
Directly shipped by the artist.
Painting is available in 22 Inch x 30 Inches, for customization please contact hello@hasthcraft.com or call us on +91 9540767331.
No more offers for this product!
General Enquiries
There are no enquiries yet.