Sale!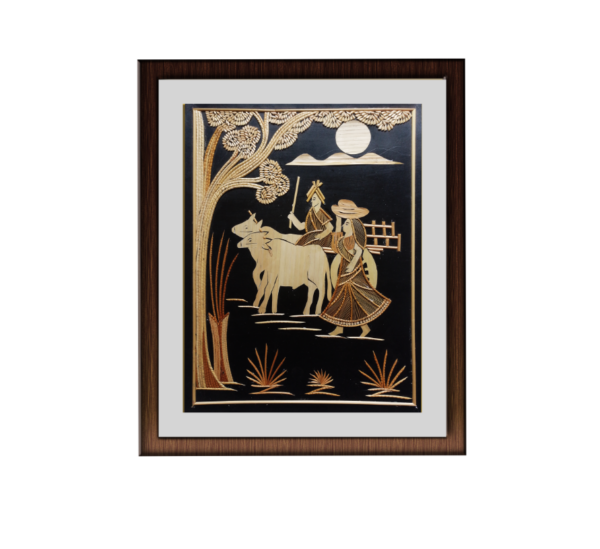 Sikki Artwork : Urban Life
-18% OFF
Sikki art is a traditional form of handicraft that originated in the state of Bihar, India. It involves creating intricate designs using thin strips of fine-grained bamboo that are dyed in bright colors and woven together to form a variety of objects such as baskets, mats, lampshades, and other decorative items.
The exceptional Sikki artwork by National Awardee Sudhira Devi mesmerizes with its portrayal of urban life. The golden grass brings a touch of radiance to the scene, as a bullock cart, guided by a man and accompanied by women, gracefully moves through the bustling streets. The oxen's strength and the traditional mode of transportation reflect the harmony between past and present. The rising sun signifies a new day, filled with hope and possibilities, while the majestic tree symbolizes the coexistence of nature amidst urban development. Sudhira Devi's masterful craftsmanship and use of golden grass elevate this artwork, capturing the essence of urban vitality and the enduring beauty of Sikki art.
Sudhira Devi, a National Awardee, along with her entire family, has made significant contributions to the development of Sikki Artform. For over 30 years, she has dedicated herself to creating extraordinary art pieces that showcase her immense talent. 
The artwork comes in the size of 30.48*22.86 square Cm and available for customization,for customization contact us on 9540767331 or write to us at hello@hasthcraft.com
In stock
Item will be shipped in 1-2 business days
Specifications
| | |
| --- | --- |
| Weight | 0.25 kg |
| Dimensions | 30.48 × 22.86 cm |
| color | Golden-hued grass on Black Paper |
| material | Hand-Made Paper |
Description
Weight:250 gm.
Length:30.48Cm Width :22.86 Cm i.e 12 Inch*9 Inch 
Being handmade, each artwork is unique in itself.
Directly shipped by the artist.
Arrives unframed
Made in India.
Signed by the artist Sudhira Devi
Painting is available in 12*9 Sq inch,for customization please contact hello@hasthcraft.com or call us on +91 9540767331
No more offers for this product!
Shipping Policy
Products are dispatched in a maximum of 1 business day or as per product policy.
Free delivery anywhere across India.
Refund Policy
Customers will get a full refund (product cost + shipping cost) in case of prepaid order.
Refunds will be processed in 3-7 Business day
Cancellation / Return / Exchange Policy
Customers can cancel an order before it is delivered to the customer.
Customers will get a full refund (product cost + shipping cost) in case of prepaid order.
Refunds will be processed in 3-7 Business days.
Return/Exchange Policy:
7 days of return/exchange from the date of product delivered
General Enquiries
There are no enquiries yet.