Sale!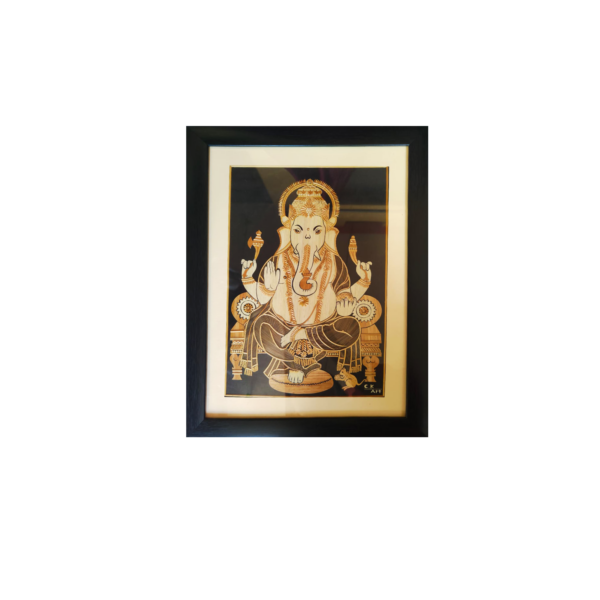 Sikki Artwork: Chaturbhuj Ganpati
-18% OFF
Sikki art has a long history in Bihar and is an important part of the state's cultural heritage. It is still practised by skilled artisans today, and their creations are highly valued for their beauty and craftsmanship.Sikki art pieces are meticulously handcrafted, ensuring each one is a one-of-a-kind masterpiece. Artisans derive inspiration from nature, skillfully incorporating captivating floral and geometric patterns into their designs. The intricate and delicate nature of Sikki art elevates it to an exceptional choice for an array of decorative items that effortlessly infuse elegance and beauty into any living space.
The exquisite Sikki artwork unveils the divine form of Lord Ganpati with four hands, meticulously crafted with golden grass, against a dark background. The intricate details and craftsmanship bring out the grace and auspiciousness of Ganpati's presence. The golden grass shines radiantly, symbolizing divine energy and prosperity. Accompanied by his loyal companion, the mouse, Ganpati exudes a sense of wisdom and divine protection. The dark background adds a mystical touch, enhancing the aura of spirituality and reverence. This exceptional artwork invites viewers to immerse themselves in the divine realm of Lord Ganpati, evoking a deep sense of devotion and awe. The artist's mastery of Sikki art is evident, creating a captivating masterpiece that celebrates the divine attributes of Lord Ganpati.
Sudhira Devi's artistic prowess has propelled Sikki art to new heights, garnering recognition and admiration. Her passion and commitment have played a vital role in preserving and promoting this traditional art form.
The artwork comes in the size of 38.1*30.48 square Cm and available for customization,for customization contact us on 9540767331 or write to us at hello@hasthcraft.com
In stock
Item will be shipped in 1-2 business days
Specifications
| | |
| --- | --- |
| Weight | 0.25 kg |
| Dimensions | 38.1 × 30.48 cm |
| color | Golden-hued grass on Black Paper |
| material | Hand-Made Paper |
Description
Weight:250 gm.
Length:38.1Cm Width :30.48 Cm i.e 15 Inch*12 Inch 
Being handmade, each artwork is unique in itself.
Directly shipped by the artist.
Arrives unframed
Made in India.
Signed by the artist Sudhira Devi
Painting is available in 15*12 Sq inch,for customization please contact hello@hasthcraft.com or call us on +91 9540767331
No more offers for this product!
Shipping Policy
Products are dispatched in a maximum of 1 business day or as per product policy.
Free delivery anywhere across India.
Refund Policy
Customers will get a full refund (product cost + shipping cost) in case of prepaid order.
Refunds will be processed in 3-7 Business day
Cancellation / Return / Exchange Policy
Customers can cancel an order before it is delivered to the customer.
Customers will get a full refund (product cost + shipping cost) in case of prepaid order.
Refunds will be processed in 3-7 Business days.
Return/Exchange Policy:
7 days of return/exchange from the date of product delivered
General Enquiries
There are no enquiries yet.