Sale!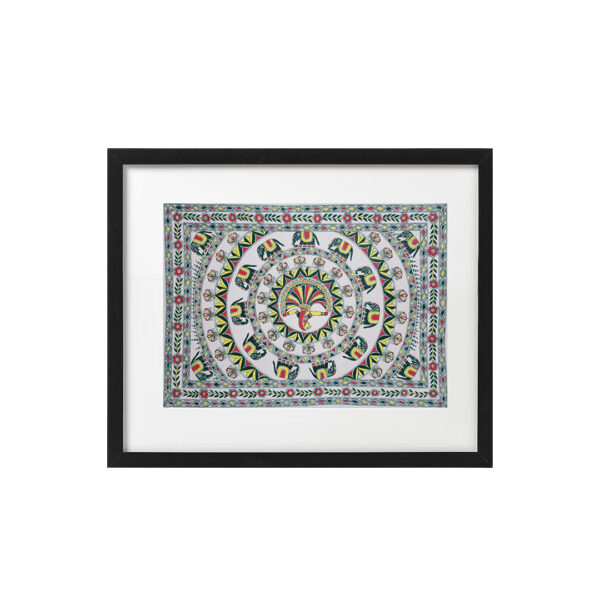 Manjusa Painting "Mata Mansa"
-17% OFF
Manjusha Art was originally created by only two families of Kumbhakar and Malakar communities. The Kumbhakar drew the paintings on pots while the Malakar made the actual Manjusha structures and painted the art on them. The name "Manjusha" comes from the Sanskrit word for "box," as the art was traditionally depicted on boxes made from bamboo, jute-straw, and paper. The paintings tell the story of Bihula who saved her husband from a snake-bite and also of Bishahari or Mansa..
Colorful picture of Godess Manasa, who is consider ad the Hindu goddess of snakes.,Some people also called her Vishari Mata which means :"the destroyer of poison." This is likely because of her association with protection against snakebites, as snake venom can be deadly if left untreated. Manasa is considered the mother of Astika and the sister of Vasuki, the king of the Nāgas. In Hindu mythology, the Nāgas are considered divine or semi-divine beings, often depicted as half-human and half-serpent.
Through this painting, Pawan Kumar Sagar showcases his unique vision and ability to bring together the traditional Manjusha style with spiritual themes. The artwork is a testament to his talent as an artist and his deep understanding of the cultural and spiritual heritage of India.
The artwork is original with the signature done by the artist and delivered directly from the artist gallery to the hands of consumer.
The artwork comes in the size of 60.96*91.44 square Cm and available for customization,for customization contact us on 9540767331 or write to us at hello@hasthcraft.com
5 in stock
Specifications
| | |
| --- | --- |
| Weight | 0.4 kg |
| Dimensions | 45.74 × 60.96 × 2 cm |
| color | Natural Colour |
| material | Canvas |
Description
Weight: 400 gm.
Length:60.96Cm Width :91.44 Cm. i.e 24 Inch*36 Inch
Arrive unframed.
Being handmade, each artwork is unique in itself.
Directly shipped by the artist.
Made in India.
Signed by the artist Pawan Kumar Sagar
Painting is available in 24*36 Sq inch,for customization please contact hello@hastthcraft.com or call us on +91 9540767331
No more offers for this product!
Shipping Policy
Products are dispatched in a maximum of 1 business day or as per product policy.
Free delivery anywhere across India.
Refund Policy
Customers will get a full refund (product cost + shipping cost) in case of prepaid order.
Refunds will be processed in 3-7 Business day
Cancellation / Return / Exchange Policy
Customers can cancel an order before it is delivered to the customer.
Customers will get a full refund (product cost + shipping cost) in case of prepaid order.
Refunds will be processed in 3-7 Business days.
Return/Exchange Policy:
7 days of return/exchange from the date of product delivered
General Enquiries
There are no enquiries yet.