Sale!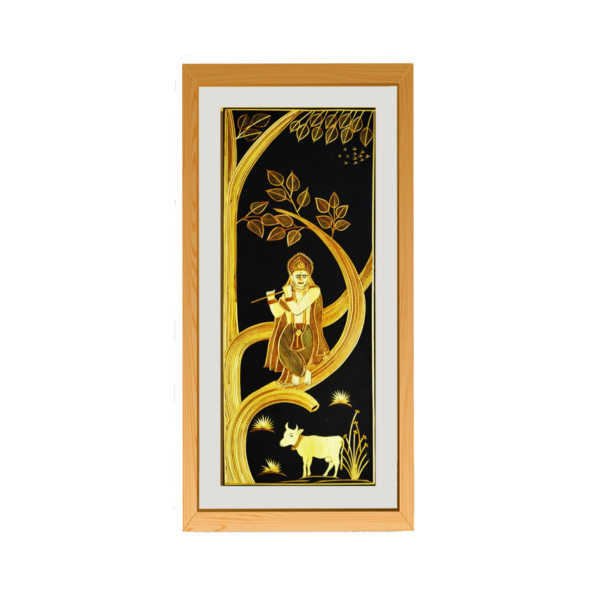 Sikki Artwork: Krishna on Tree
-18% OFF
Sikki art is a traditional form of handicraft that originated in the state of Bihar, India. It involves creating intricate designs using thin strips of fine-grained bamboo that are dyed in bright colors and woven together to form a variety of objects such as baskets, mats, lampshades, and other decorative items.
Sikki artwork, a magnificent traditional craft from Bihar, India, magnificently captures the essence of Lord Krishna as he perches on a tree and enchants the world with his divine flute melodies. The artisans skillfully weave the delicate sikki grass to bring this scene to life, showcasing the enchanting posture of Krishna and the intricate details of the tree branches. The artwork radiates a sense of mystical charm as Krishna's serene presence blends harmoniously with the ethereal music emanating from his flute. Through sikki artwork, the eternal allure of Lord Krishna's playful demeanor and melodious tunes are immortalized, inviting viewers to be captivated by the divine enchantment.
Sudhira Devi's artistic prowess has propelled Sikki art to new heights, garnering recognition and admiration. Her passion and commitment have played a vital role in preserving and promoting this traditional art form.
The artwork comes in the size of 55.88*20.32 square Cm and available for customization,for customization contact us on 9540767331 or write to us at hello@hasthcraft.com
In stock
Item will be shipped in 1-2 business days
Specifications
| | |
| --- | --- |
| Weight | 0.25 kg |
| Dimensions | 38.1 × 30.48 cm |
| color | Golden-hued grass on Black Paper |
| material | Hand-Made Paper |
Description
Weight:250 gm.
Length:55.88Cm Width :20.32 Cm i.e 22 Inch*8 Inch 
Being handmade, each artwork is unique in itself.
Directly shipped by the artist.
Arrives unframed
Made in India.
Signed by the artist Sudhira Devi
Painting is available in 22*8 Sq inch,for customization please contact hello@hasthcraft.com or call us on +91 9540767331
No more offers for this product!
Shipping Policy
Products are dispatched in a maximum of 1 business day or as per product policy.
Free delivery anywhere across India.
Refund Policy
Customers will get a full refund (product cost + shipping cost) in case of prepaid order.
Refunds will be processed in 3-7 Business day
Cancellation / Return / Exchange Policy
Customers can cancel an order before it is delivered to the customer.
Customers will get a full refund (product cost + shipping cost) in case of prepaid order.
Refunds will be processed in 3-7 Business days.
Return/Exchange Policy:
7 days of return/exchange from the date of product delivered
General Enquiries
There are no enquiries yet.