Sale!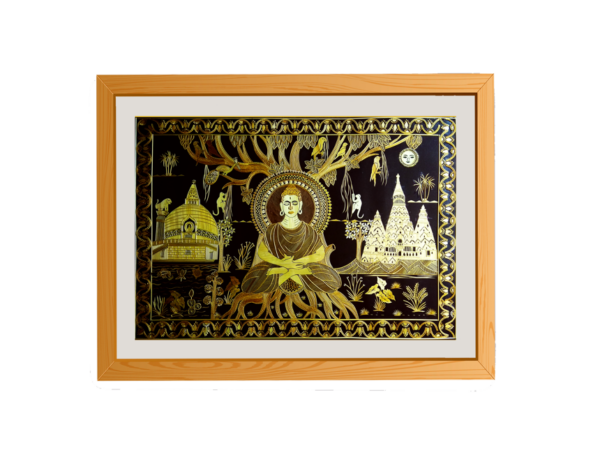 Sikki Artwork : Buddha in Meditation Under Peepal Tree
-18% OFF
Sikki Golden Grass is an eco-friendly and sustainable natural material that originates from Bihar, India. We at Hasthcraft.com  platform showcases exquisite handcrafted artwork made from this lustrous golden fiber. Each piece is crafted with intricate attention to detail and showcases the natural radiance of Sikki Golden Grass. Our curated collection includes versatile decorative items, from woven baskets to fine jewelry, suitable for diverse preferences. The artistry of Sikki Golden Grass reflects the rich heritage and cultural traditions of the local community. Shop now to experience the captivating allure of Sikki Golden Grass and support sustainable practices and skilled artisans.
The exceptional Sikki artwork by National Awardee Sudhira Devi mesmerizes with its depiction of Buddha in deep meditation under the shade of a majestic peepal tree. Sudhira Devi's artistic brilliance shines as she intricately weaves sikki grass, bringing to life not only the serene figure of Buddha but also the lively presence of birds and a playful monkey on the tree. The artwork encompasses the profound tranquility of the scene, while the Sachi Stupa and temple in the backdrop add a touch of sacredness. This masterpiece serves as a testament to Sudhira Devi's mastery and her unwavering dedication to preserving the rich cultural and spiritual heritage through the exceptional medium of Sikki art.
Sudhira Devi, a National Awardee, along with her entire family, has made significant contributions to the development of Sikki Artform. For over 30 years, she has dedicated herself to creating extraordinary art pieces that showcase her immense talent. 
The artwork comes in the size of 63.5*86.36 square Cm and available for customization,for customization contact us on 9540767331 or write to us at hello@hasthcraft.com
In stock
Item will be shipped in 1-2 business days
Specifications
| | |
| --- | --- |
| Weight | 1.1 kg |
| Dimensions | 63.5 × 86.36 cm |
| color | Golden-hued grass on Black Paper |
| material | Hand-Made Paper |
Description
Weight:1100 gm.
Length:63.5Cm Width :86.36 Cm i.e 25 Inch*34 Inch 
Being handmade, each artwork is unique in itself.
Directly shipped by the artist.
Arrives unframed
Made in India.
Signed by the artist Sudhira Devi
Painting is available in 25*34 Sq inch,for customization please contact hello@hasthcraft.com or call us on +91 9540767331
No more offers for this product!
Shipping Policy
Products are dispatched in a maximum of 1 business day or as per product policy.
Free delivery anywhere across India.
Refund Policy
Customers will get a full refund (product cost + shipping cost) in case of prepaid order.
Refunds will be processed in 3-7 Business day
Cancellation / Return / Exchange Policy
Customers can cancel an order before it is delivered to the customer.
Customers will get a full refund (product cost + shipping cost) in case of prepaid order.
Refunds will be processed in 3-7 Business days.
Return/Exchange Policy:
7 days of return/exchange from the date of product delivered
General Enquiries
There are no enquiries yet.