Sale!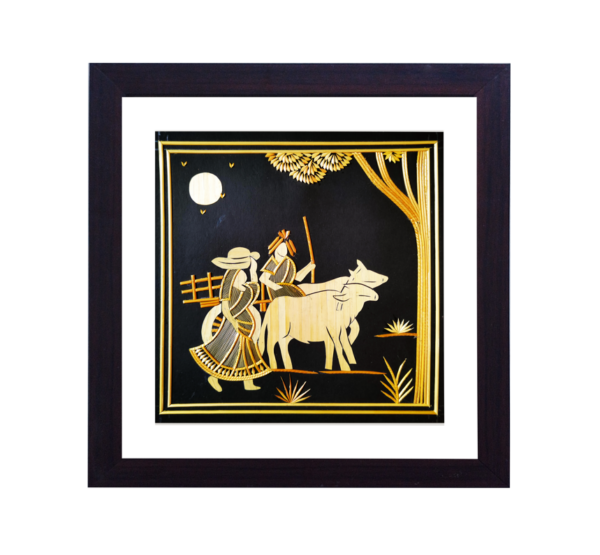 Sikki Artwork : Urban life
-18% OFF
Unleash the captivating allure of Sikki Golden Grass artwork, exclusively available on our dynamic www.HasthCraft.com platform. Immerse yourself in the meticulous craftsmanship of skilled artisans, as they unveil the inherent splendor of this resplendent golden fiber. From intricately woven jewelry to opulent home decor, Sikki Golden Grass exudes an unparalleled elegance that transcends spaces. Embrace the essence of sustainability, as each creation stems from responsibly harvested materials. With versatile designs that astound, our curated collection boasts an array of woven masterpieces, including mesmerizing baskets, awe-inspiring wall hangings, and extraordinary decorative accents. Indulge in the cultural legacy of Bihar while empowering local artisans. Embark on a journey of timeless allure and artistry by exploring our exclusive Sikki Golden Grass collection today.
In the "Golden Grass Portrait" of Sikki art, an urban scene is depicted against a dark background. A lady is seen gracefully walking with a basket balanced on her head, while a bullock cart passes by in the vicinity. The golden crass intricately weaved into the artwork adds a touch of elegance and texture. The presence of the sun and a tree further enriches the composition, symbolizing warmth, vitality, and the connection to nature. This portrayal captures the essence of daily life in an urban setting, showcasing the harmonious blend of human activity, nature, and the cultural heritage preserved in the art of Sikki.
Sudhira Devi, a National Awardee, along with her entire family, has made significant contributions to the development of Sikki Artform. For over 30 years, she has dedicated herself to creating extraordinary art pieces that showcase her immense talent. 
The artwork comes in the size of 30.48*25.4  square Cm and available for customization,for customization contact us on 9540767331 or write to us at hello@hasthcraft.com
In stock
Specifications
| | |
| --- | --- |
| Weight | 0.25 kg |
| Dimensions | 30.48 × 22.86 cm |
| color | Golden-hued grass on Black Paper |
| material | Hand-Made Paper |
Description
Weight:250 gm.
Length:30.48Cm Width :25.4 Cm i.e 12 Inch*10 Inch 
Being handmade, each artwork is unique in itself.
Directly shipped by the artist.
Arrives unframed
Made in India.
Signed by the artist Sudhira Devi
Painting is available in 12*10 Sq inch,for customization please contact hello@hasthcraft.com or call us on +91 9540767331
No more offers for this product!
Shipping Policy
Products are dispatched in a maximum of 1 business day or as per product policy.
Free delivery anywhere across India.
Refund Policy
Customers will get a full refund (product cost + shipping cost) in case of prepaid order.
Refunds will be processed in 3-7 Business day
Cancellation / Return / Exchange Policy
Customers can cancel an order before it is delivered to the customer.
Customers will get a full refund (product cost + shipping cost) in case of prepaid order.
Refunds will be processed in 3-7 Business days.
Return/Exchange Policy:
7 days of return/exchange from the date of product delivered
General Enquiries
There are no enquiries yet.